This post may have affiliate links. If you click one of these links and make a purchase, we will be paid a commission at no additional cost to you.
These spring wreath ideas are a great way to brighten your door up and welcome visitors this spring.
Spring is a season of blooming flowers, fresh air, and new beginnings.
One way to welcome spring into your home is with a beautiful spring wreath for your front door.
Nowadays, spring wreaths come in all shapes, sizes, colors, and materials to fit any style. From modern spring floral wreaths to spring flower wreaths and large spring outdoor wreaths, there are plenty of options to choose from.
Spring Wreath Ideas
You'll love these ideas for spring wreaths. There are so many options to choose from, you're sure to find the perfect spring wreath for your front door.
Lambs Ear Wreath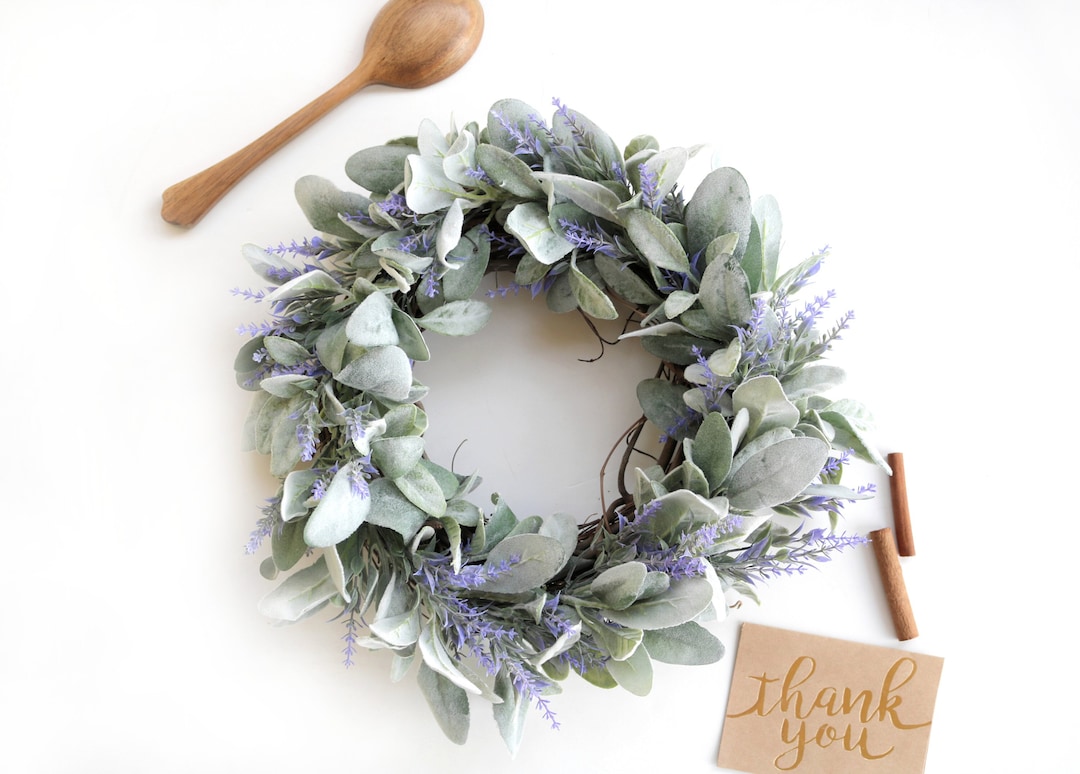 This lambs ear wreath is beautiful with lambs ear and sprigs of lavender mixed in. It will look beautiful on your front door this spring.
Farmhouse Lavender Wreath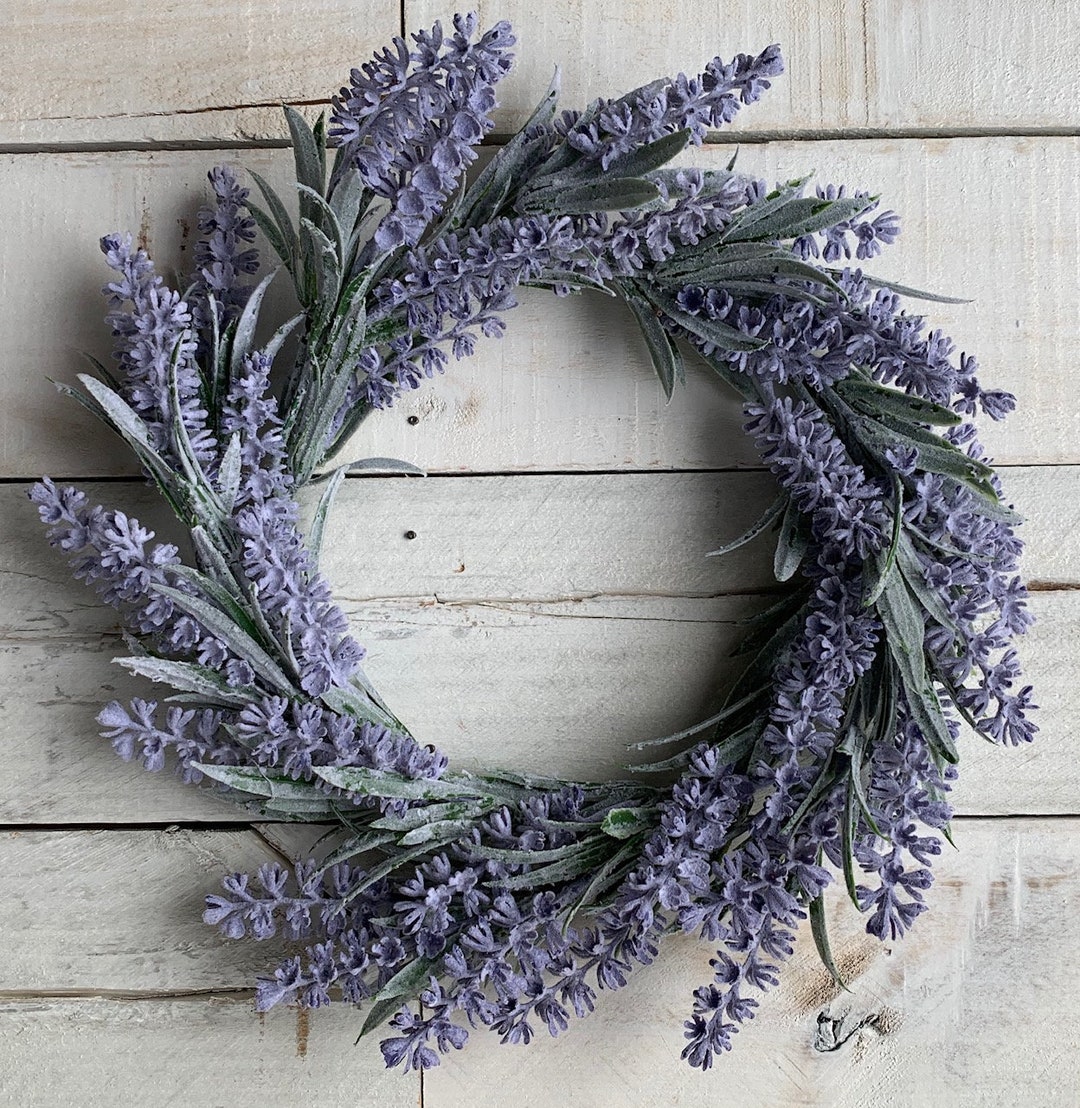 If you love lavender, then this lavender wreath is the one for you.
Pink Peony Spring Wreath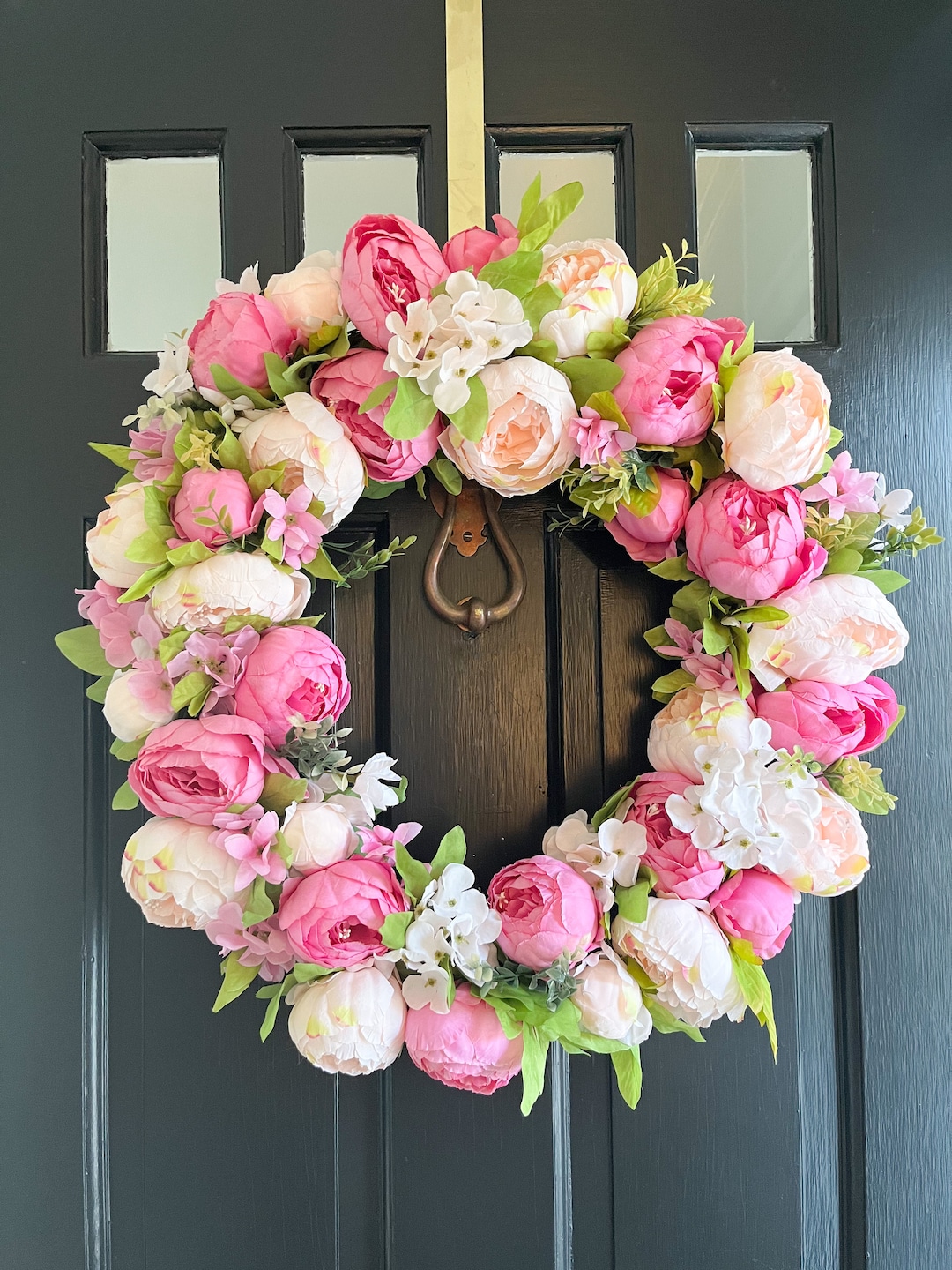 I absolutely love peonies and this peony flower wreath is gorgeous! This screams spring and is a great way to celebrate the season.
Pink Flower Berry Wreath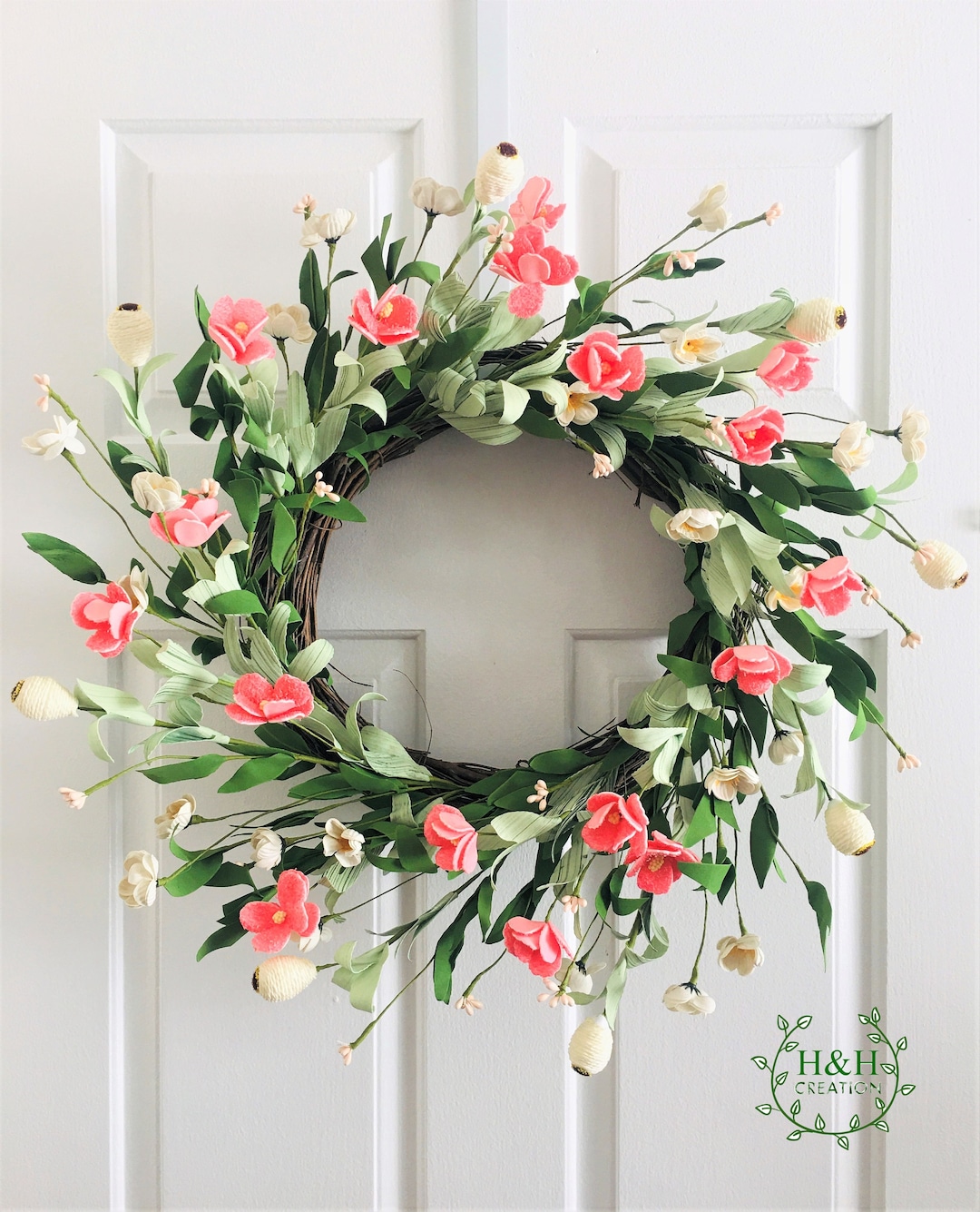 This pink flower berry wreath is dainty and cute and a great wreath for spring. Everyone will love seeing it when they get to your door.
Yellow FLower Wreath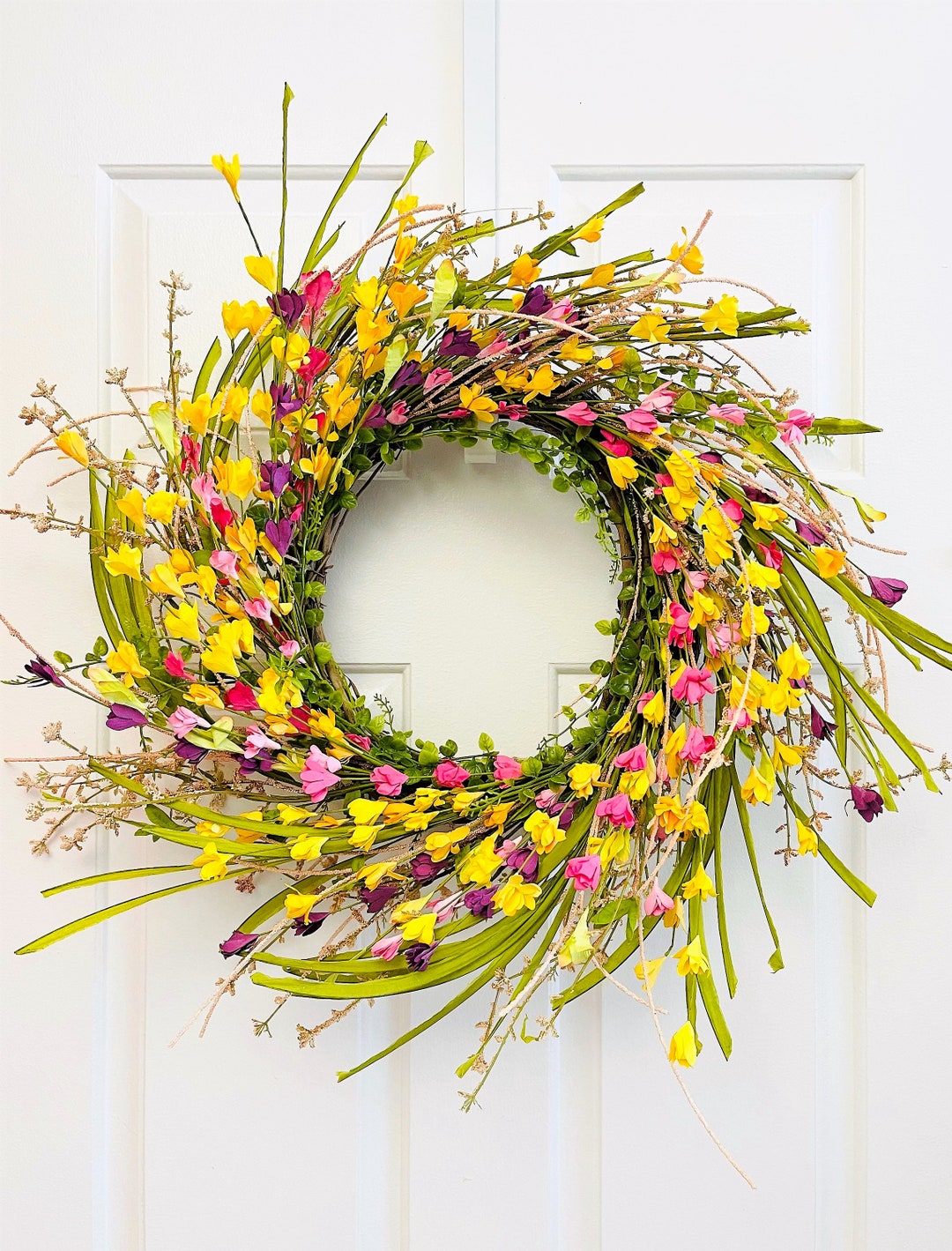 Looking for a bright and cheerful wreath? Check out this yellow flower wreath. A bright yellow flower spring wreath adds a pop of color to your front door and will be sure to get compliments all spring long.
Spring Tulip Wreath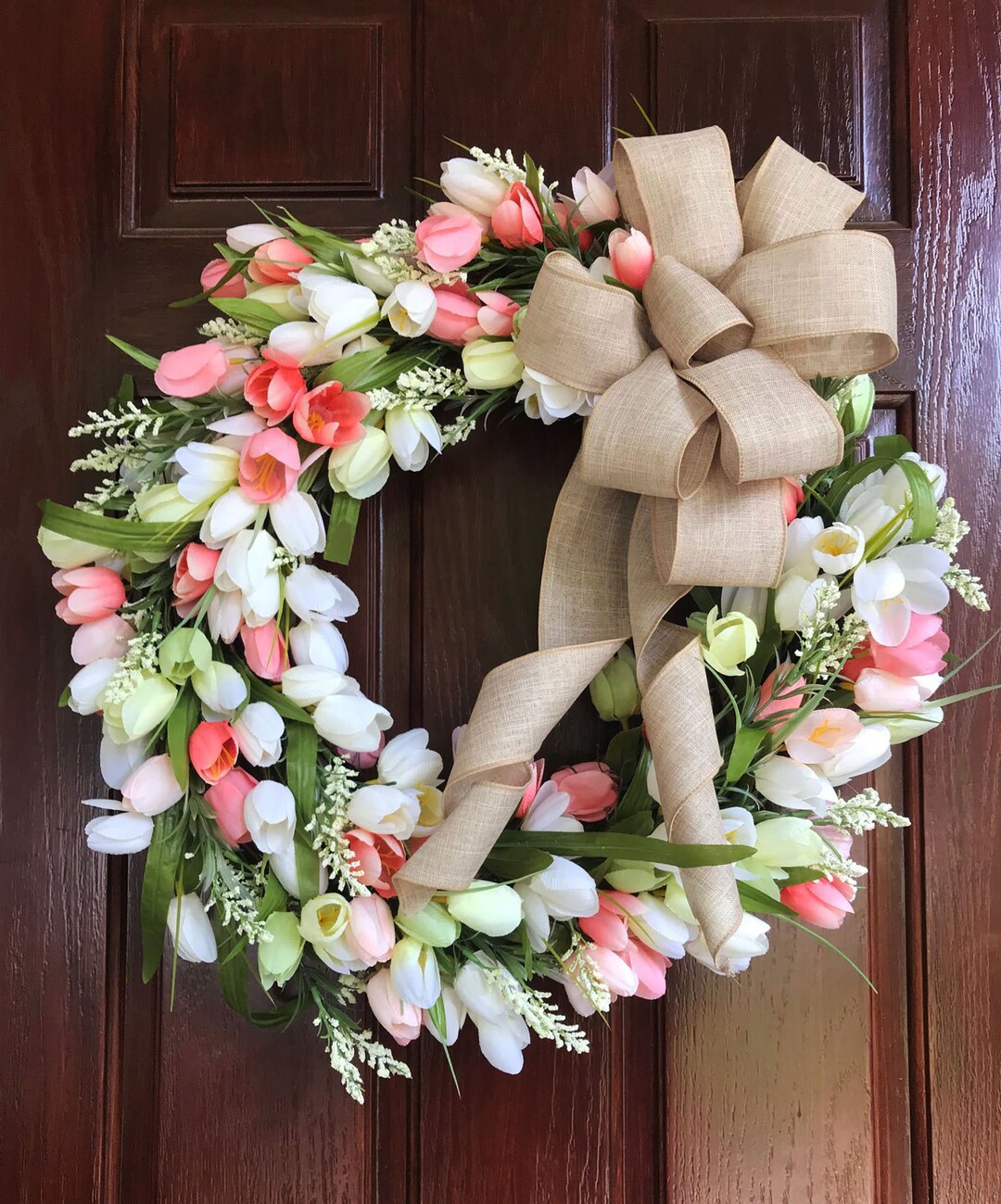 If you're looking to make a statement, spring wreath tulips are the perfect way to do so. Vibrant and colorful spring tulips are matched with some greenery and a bow that will definitely brighten up your door or any outdoor space.
Colorful Spring Wreath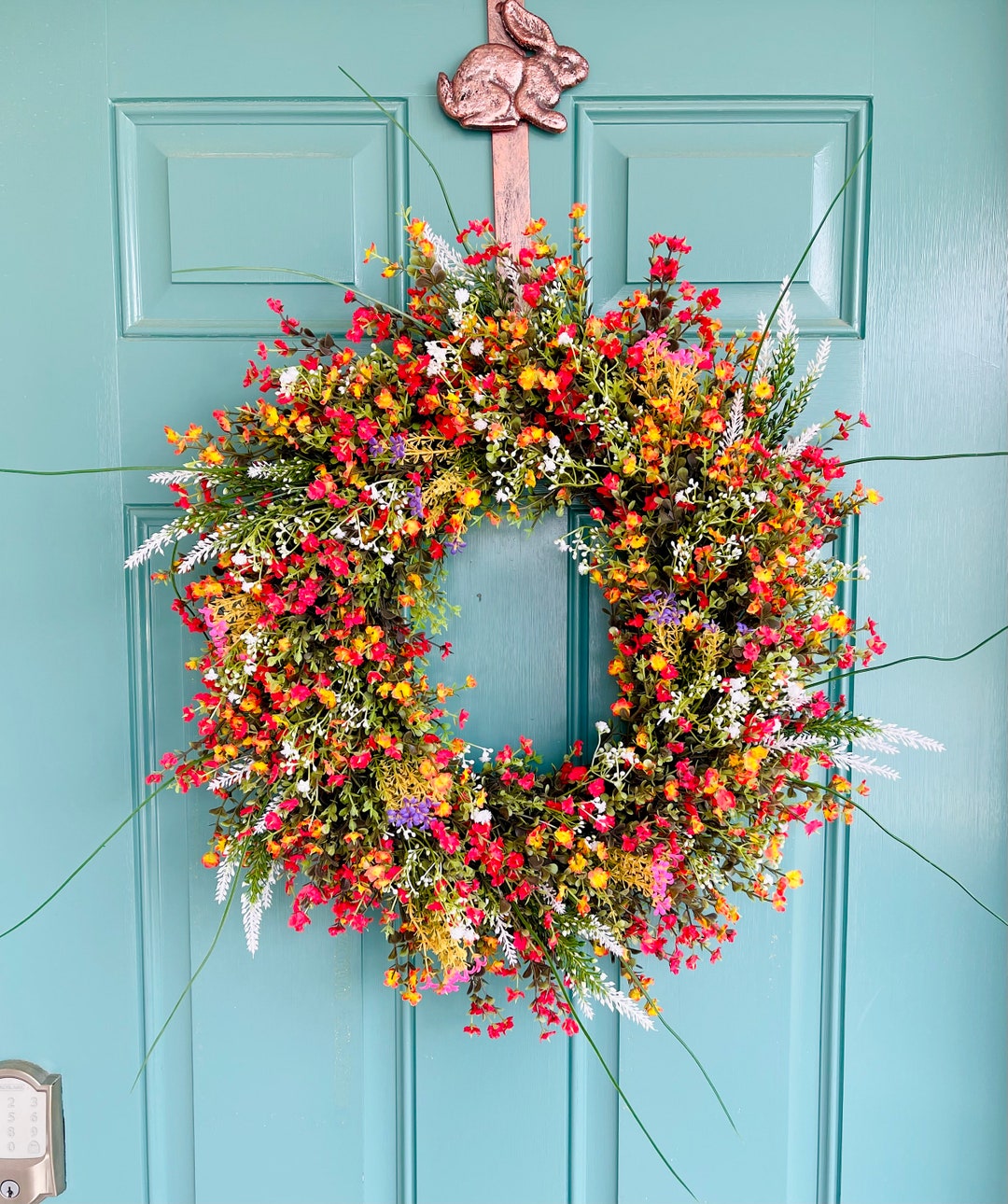 Want a beautiful and unique wreath? Check out this colorful spring wreath. It mixes colors and textures into a stunning wreath.
Peony Wreath with Grapevine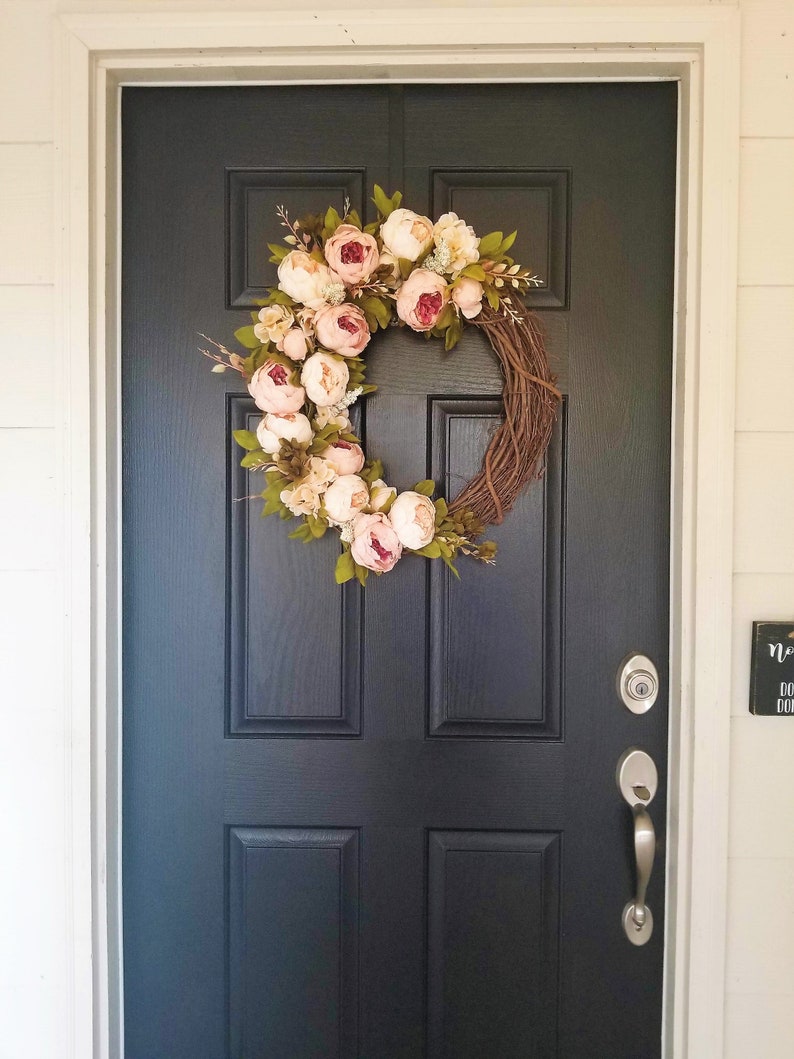 This grapevine peony wreath is elegant and set a statement this spring hanging on your door. The pink and white flowers pair together really well.
Pink Grasslands Wreath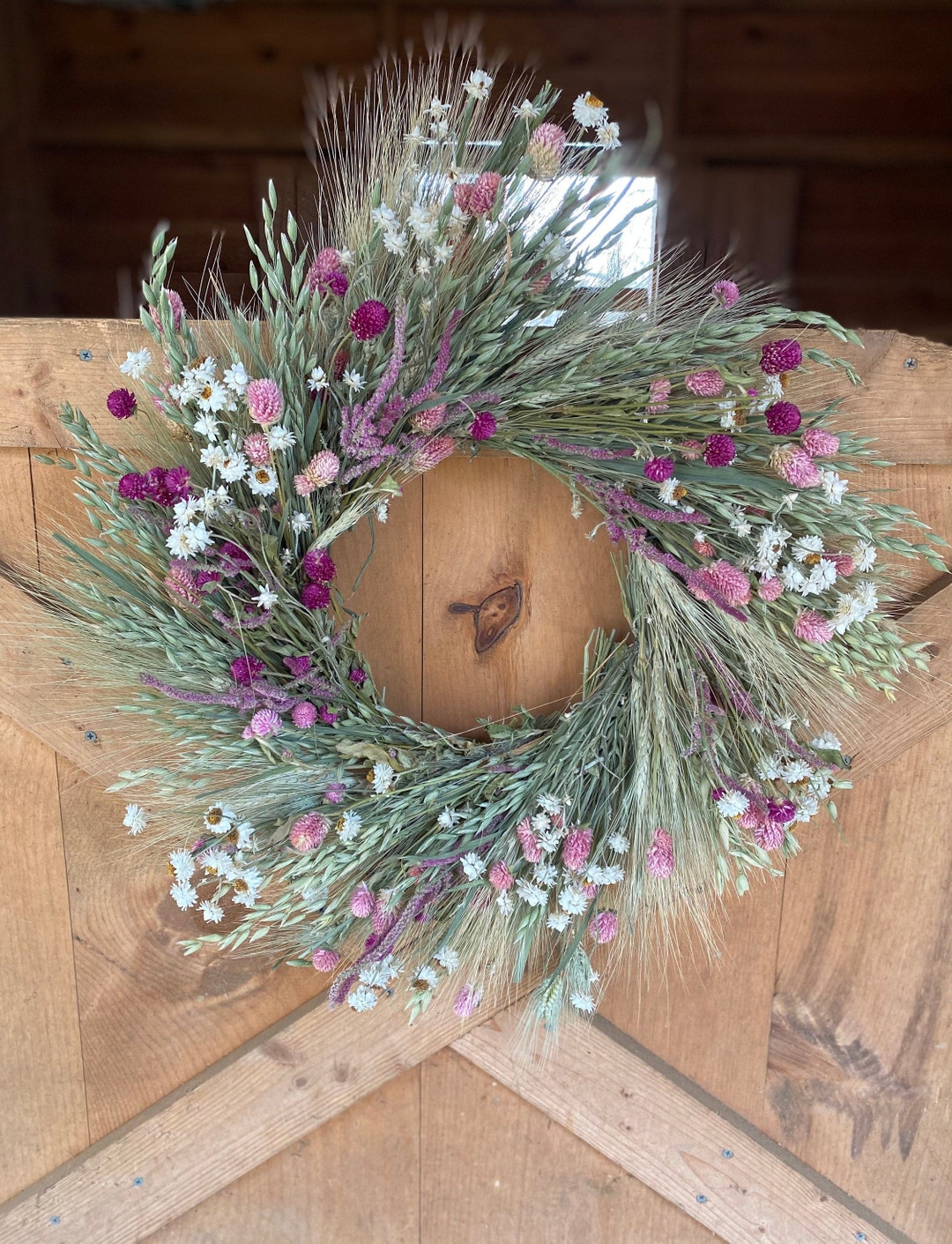 If you love rustic, you'll love this pink grasslands wreath. It is sure to go really well with farmhouse decor or anything rustic.
Tulip Wreath with a Bow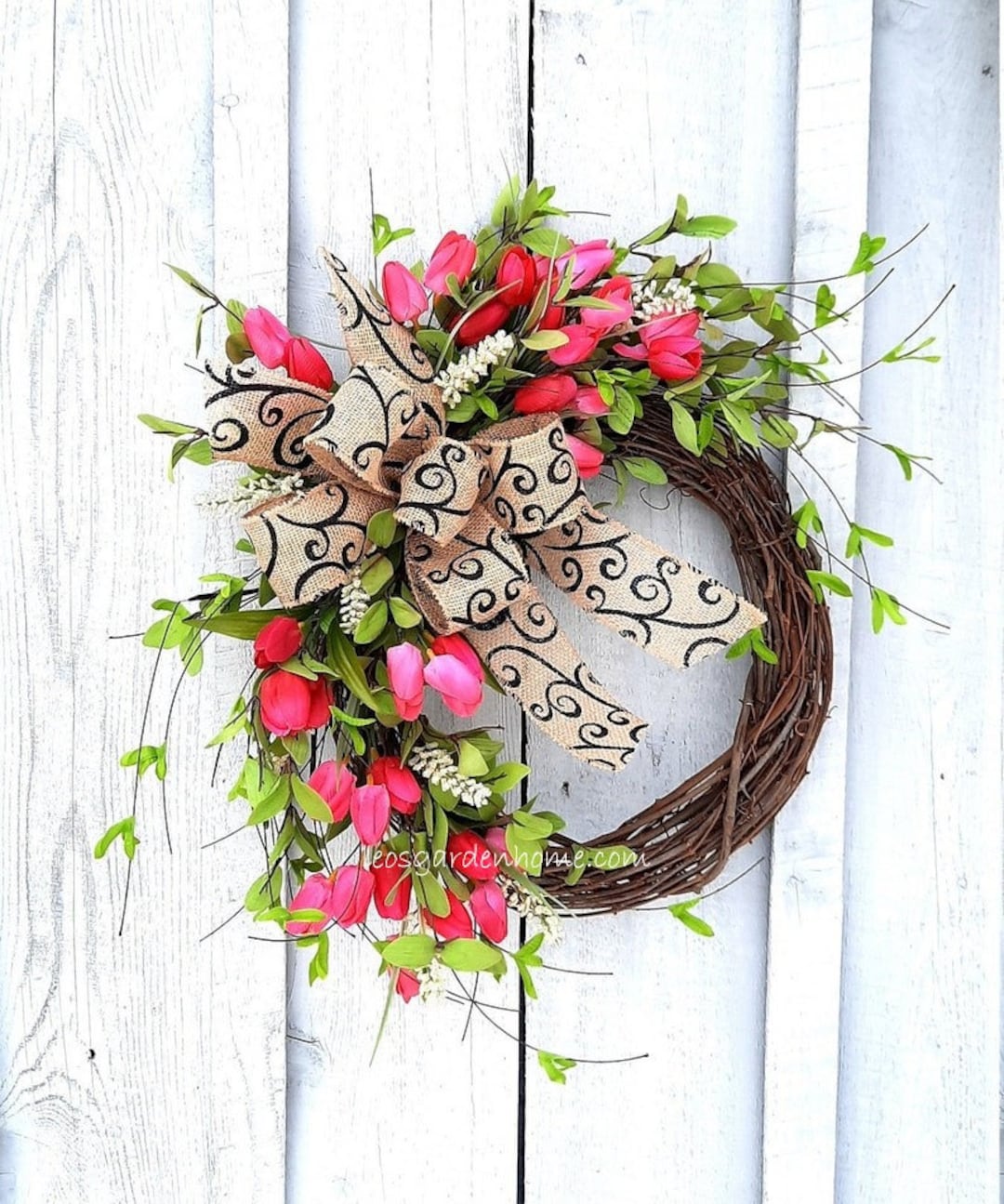 I love the added greenery in this tulip with bow wreath. The greenery gives the wreath a little bit extra pop of color.
Cream Wreath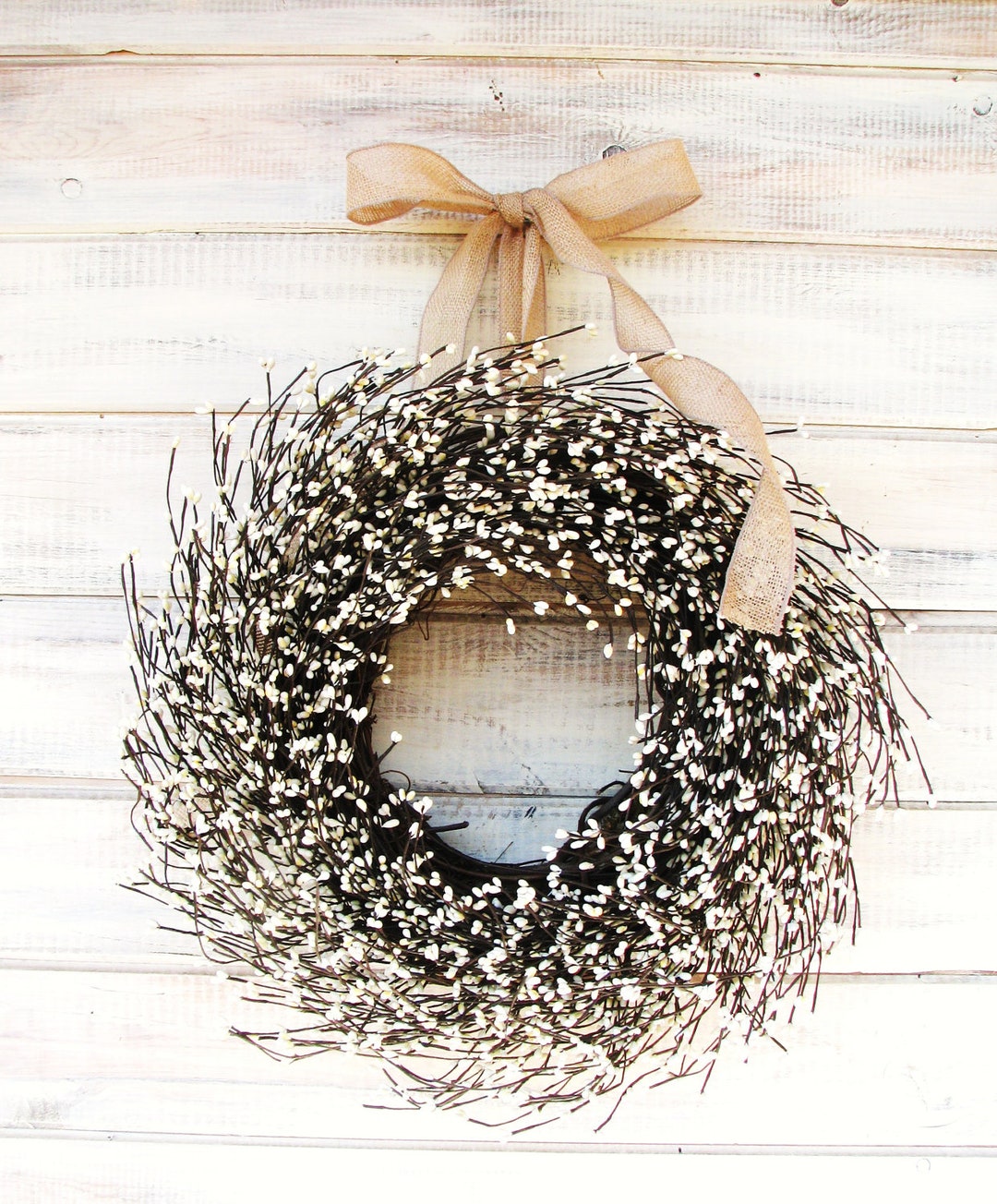 This cream wreath has a subtle amount of color and is a wonderful simple wreath. It would look very striking against a dark front door.
Tulips & Lambs Ear Wreath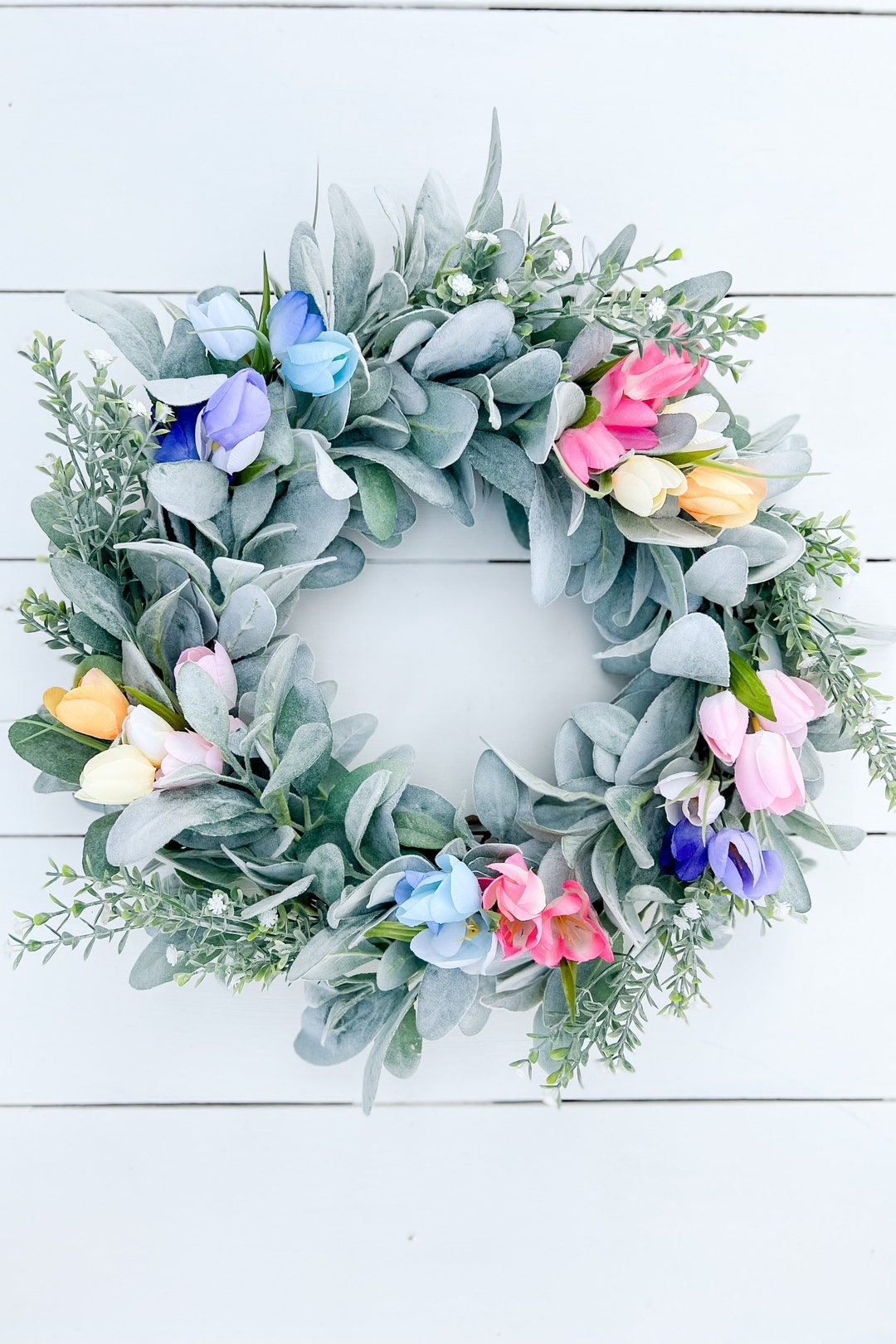 Lambs ear is gorgeous in wreaths with its muted green color. I love the pops of color against the green in this tulips and lambs ear wreath.
Lilac Wreath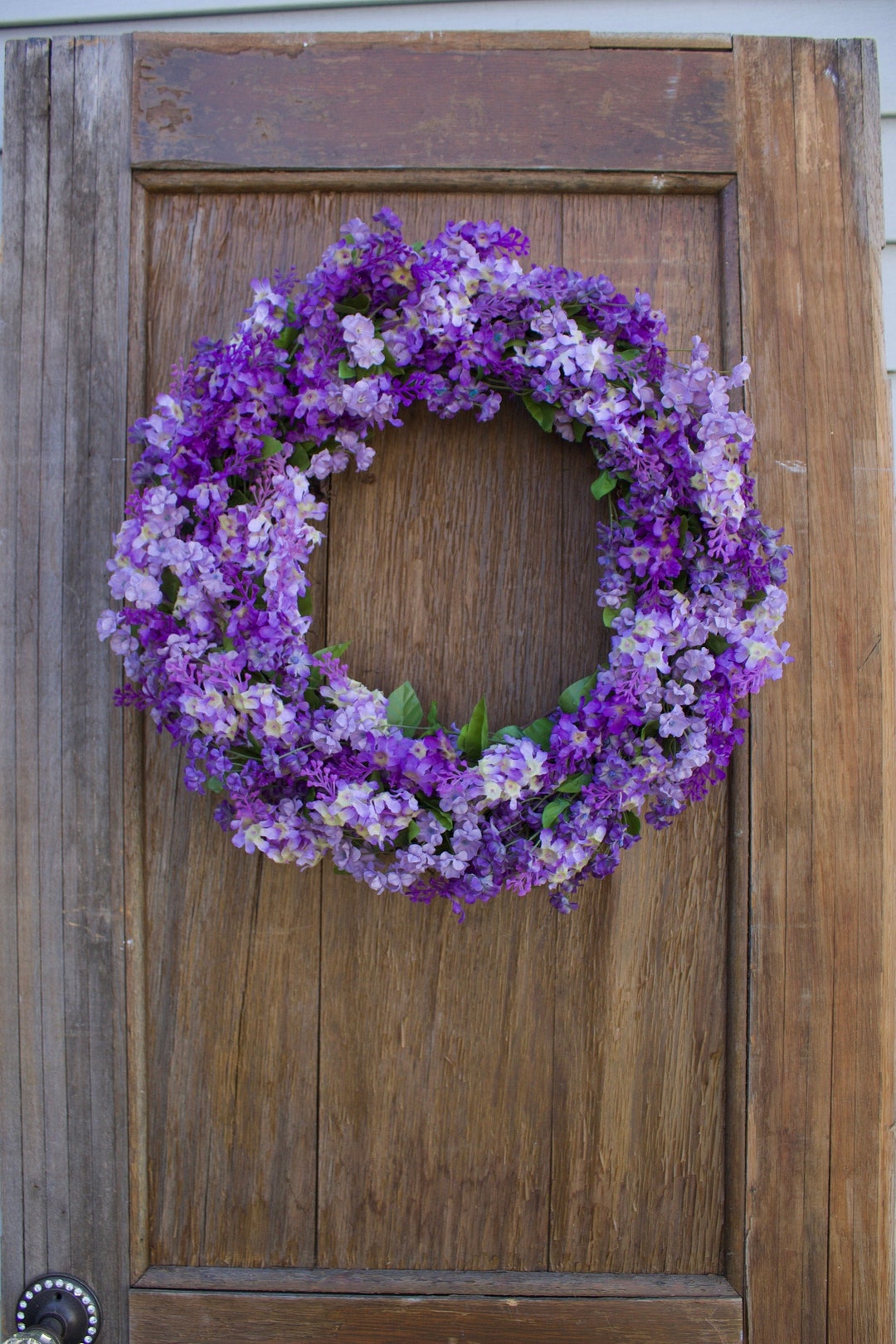 Lilac blooms are so pretty and fragrant when they bloom in the spring. Now you can put your lilacs on your front door with this lilac wreath.
Yellow Flower Wreath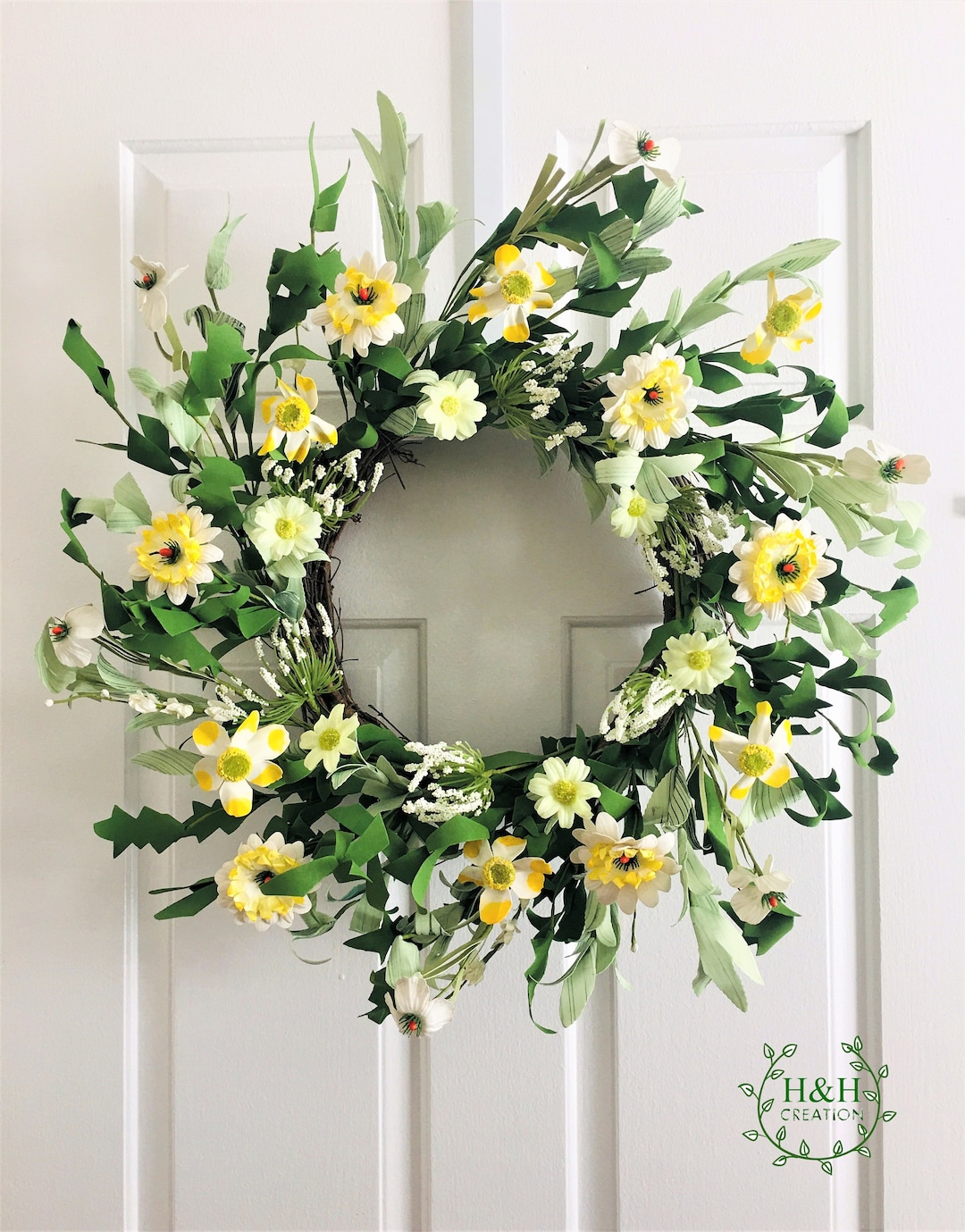 There's something so cheerful about the color yellow. Your front door will be sunny and cheerful with this yellow flower wreath.
White Tulips Wreath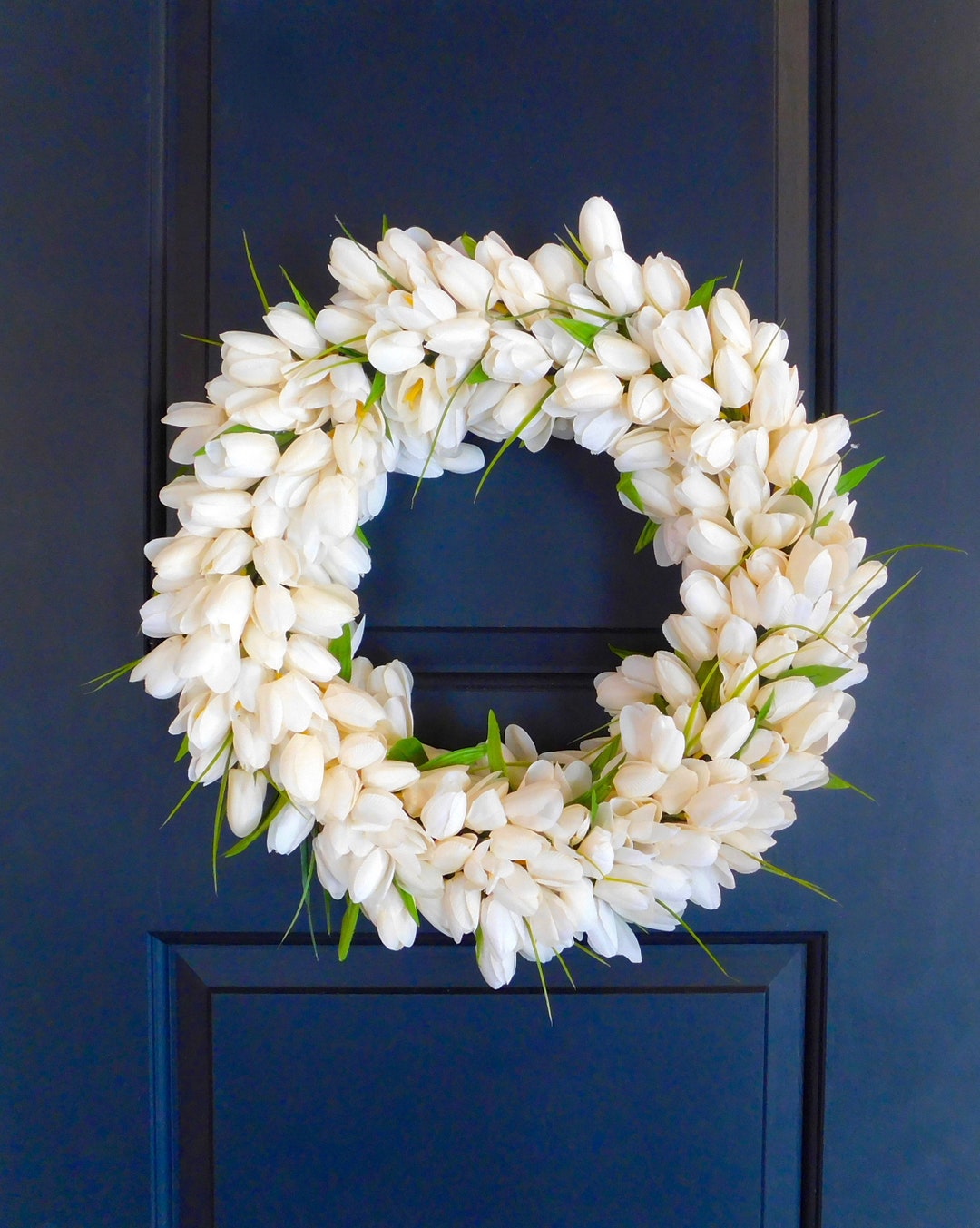 I love how crisp and white this white tulip front door wreath is. It's beautiful, especially against a dark colored door.
Green Hydrangea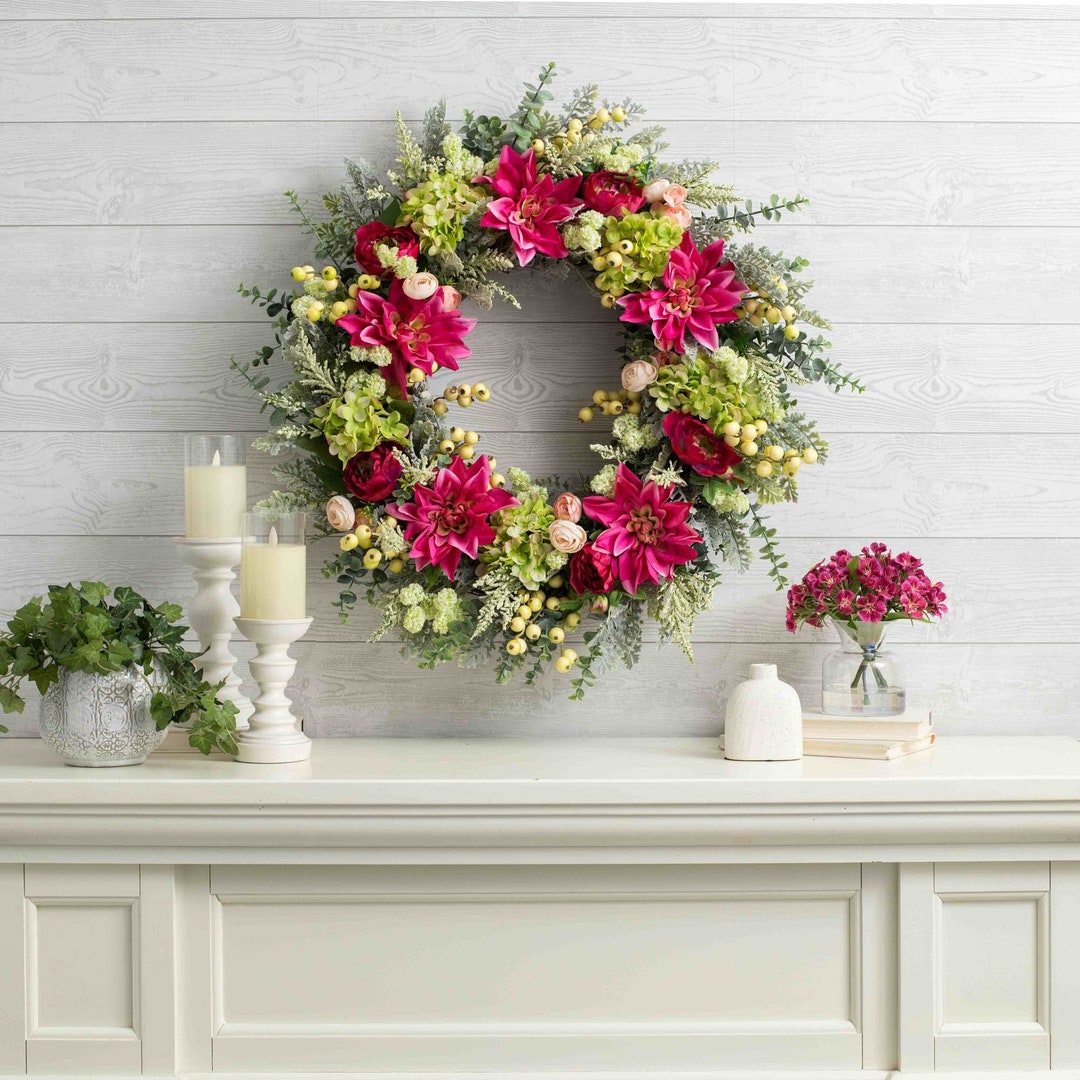 Hydranges are so pretty when they are in bloom. Now you can have green hydrangea and fuscia flowers in a wreath on your front door.
Cream Peony Wreath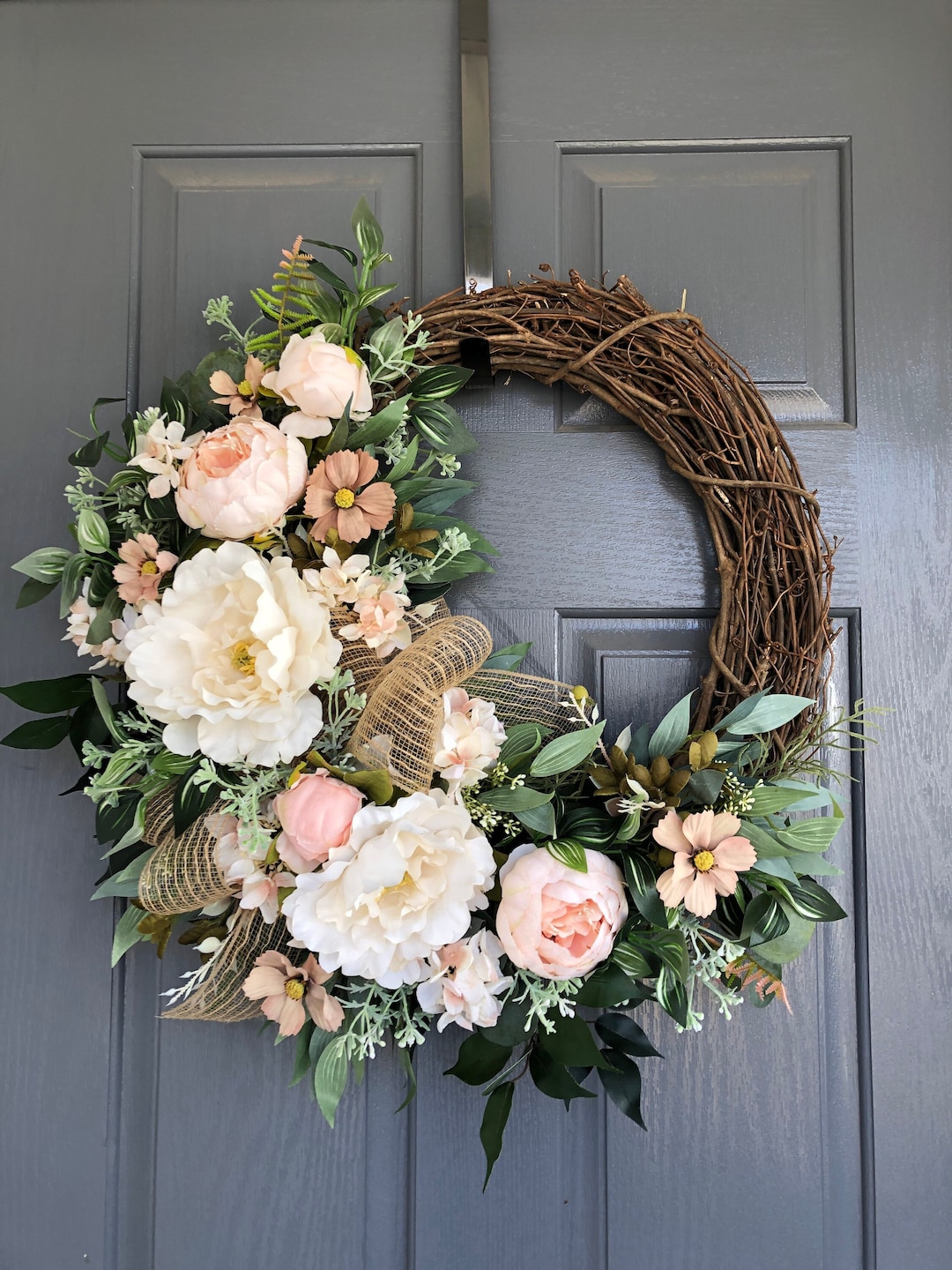 The cream peony wreath look like something out of a magazine. The peonies are beautiful in this wreath.
Purple Tulip
This purple tulip wreath is beautiful with the different shades of purple and touches of white. It will look stunning on a light colored door.
Eucalyptus Wreath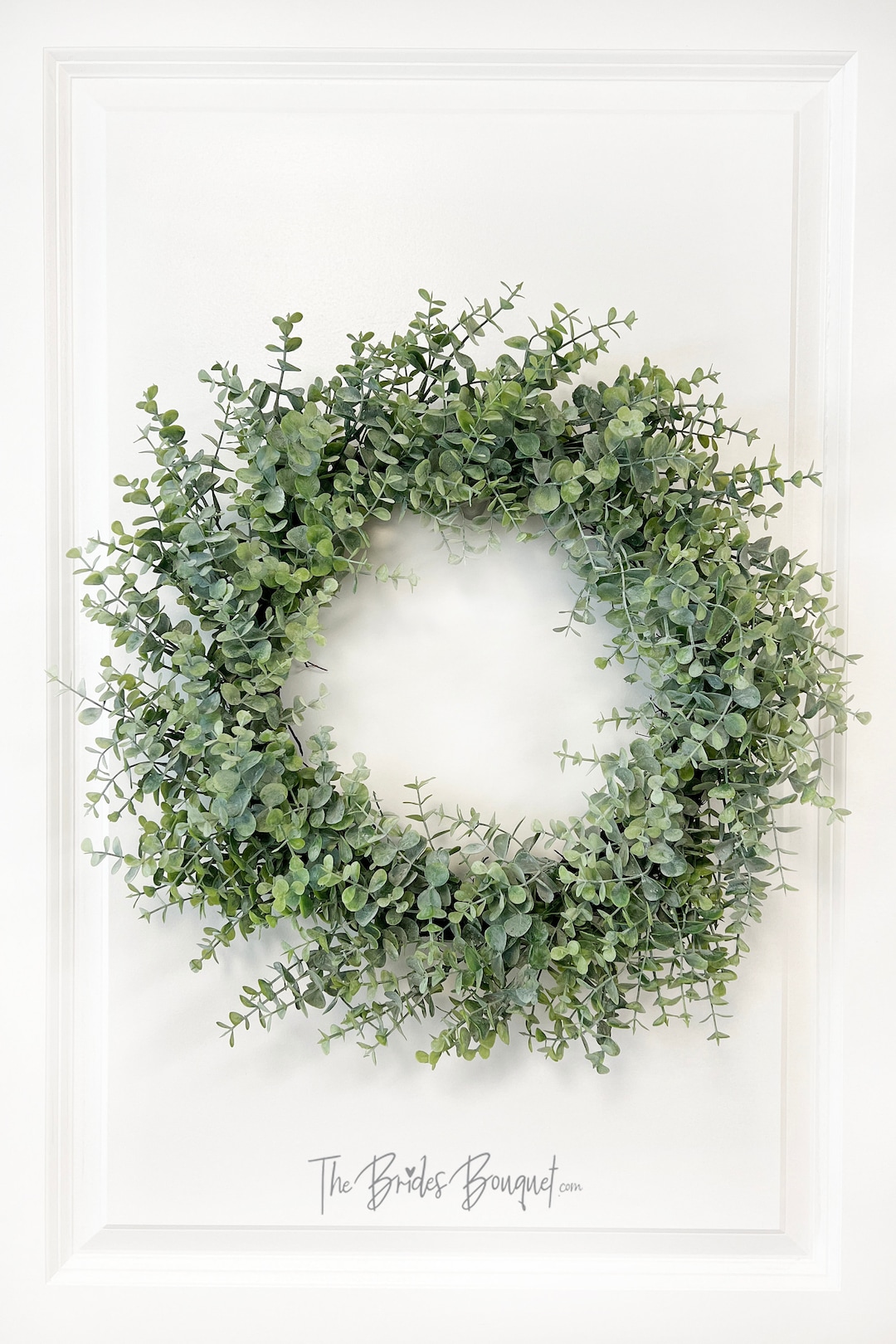 I love this eucalyptus wreath. The green color is beautiful and it's a unique wreath for this spring.
Tulip Grapevine Wreath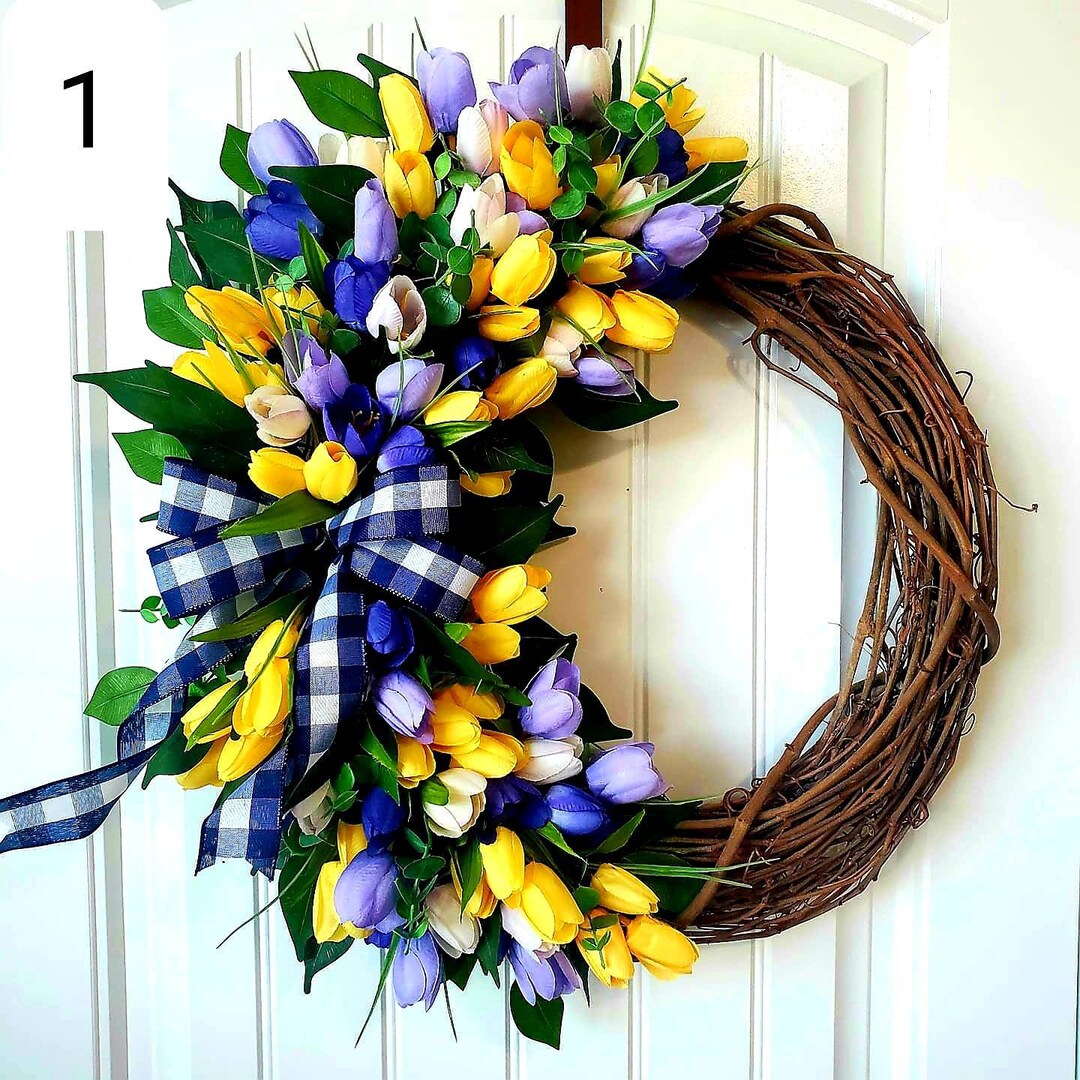 This tulip grapevine wreath is such a beautiful spring wreath. The seller on Etsy sells this tulip wreath in several different colors for the tulips. So you can pick out the wreath with the colors you want.
Lambs Ear and Rose Wreath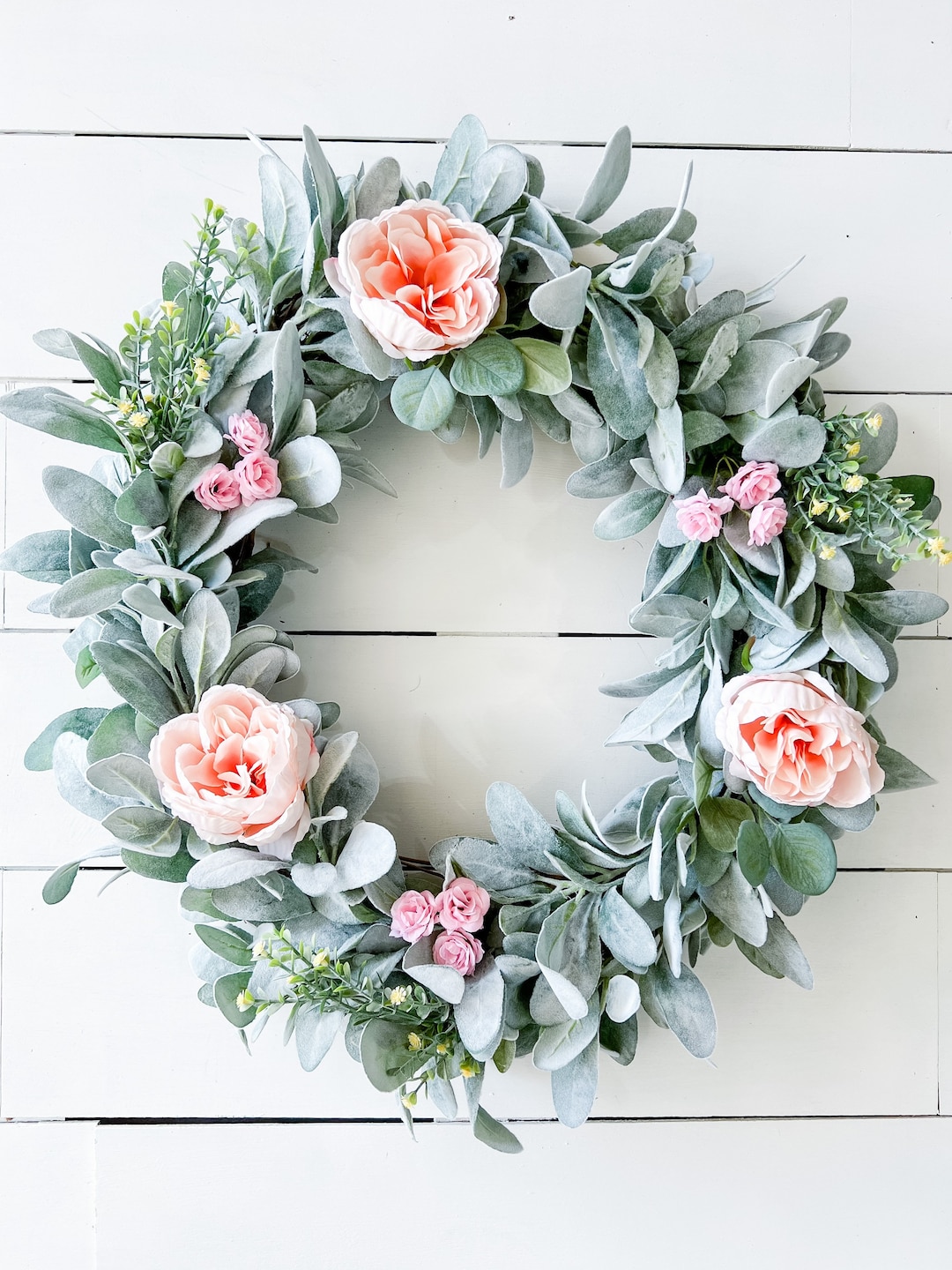 Lambs ear looks so pretty in a wreath and add in the roses and it's breathtaking. You'll love this lambs ear and rose wreath on your door.
Colored Tulips Wreath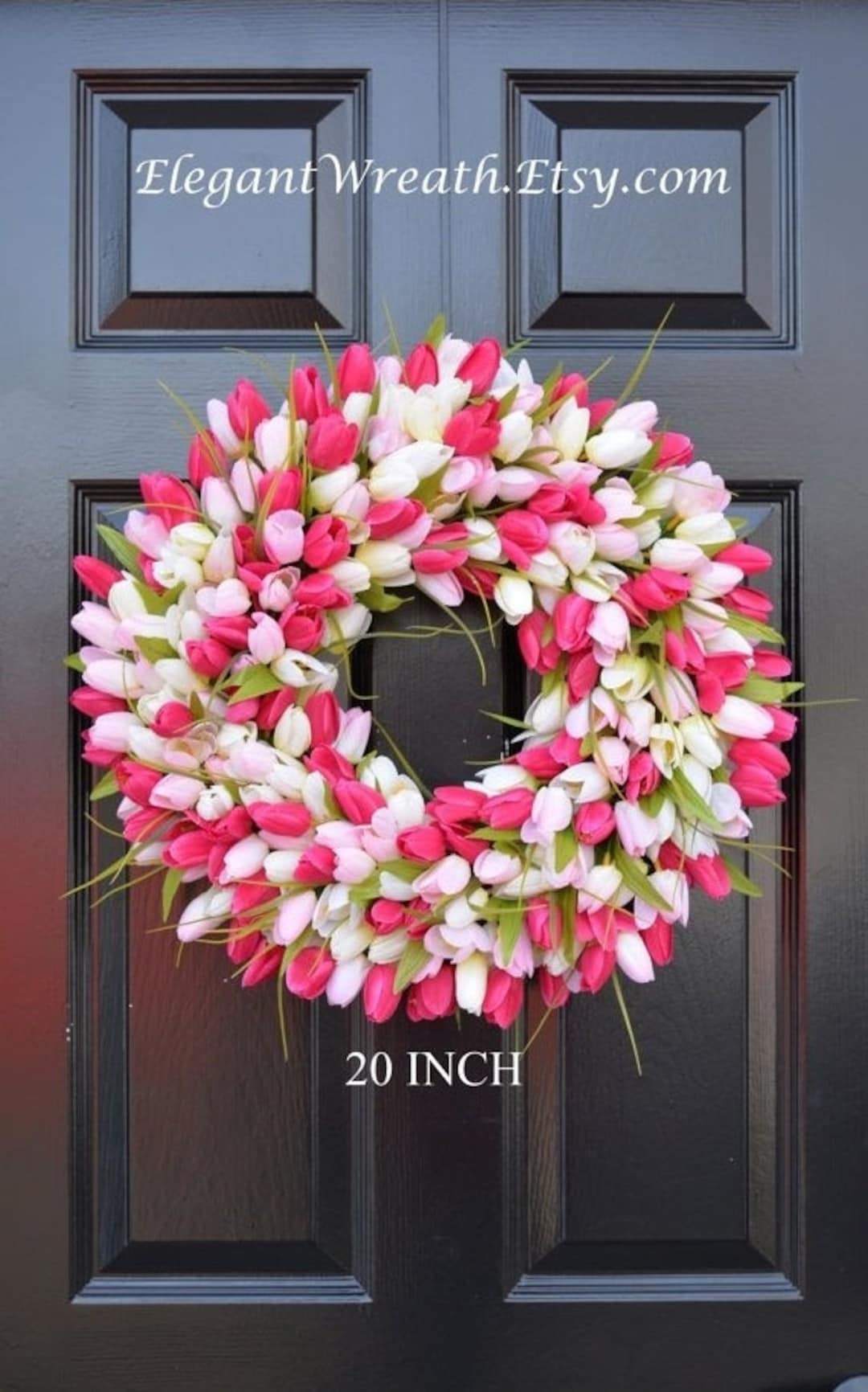 I'm loving all the brightly colored tulip wreaths this spring! This colorful tulip wreath is very similar to the colorful tulip wreath above, but I think this one might be slightly brighter in color if you prefer that.
Boxwood Eucalyptus Wreath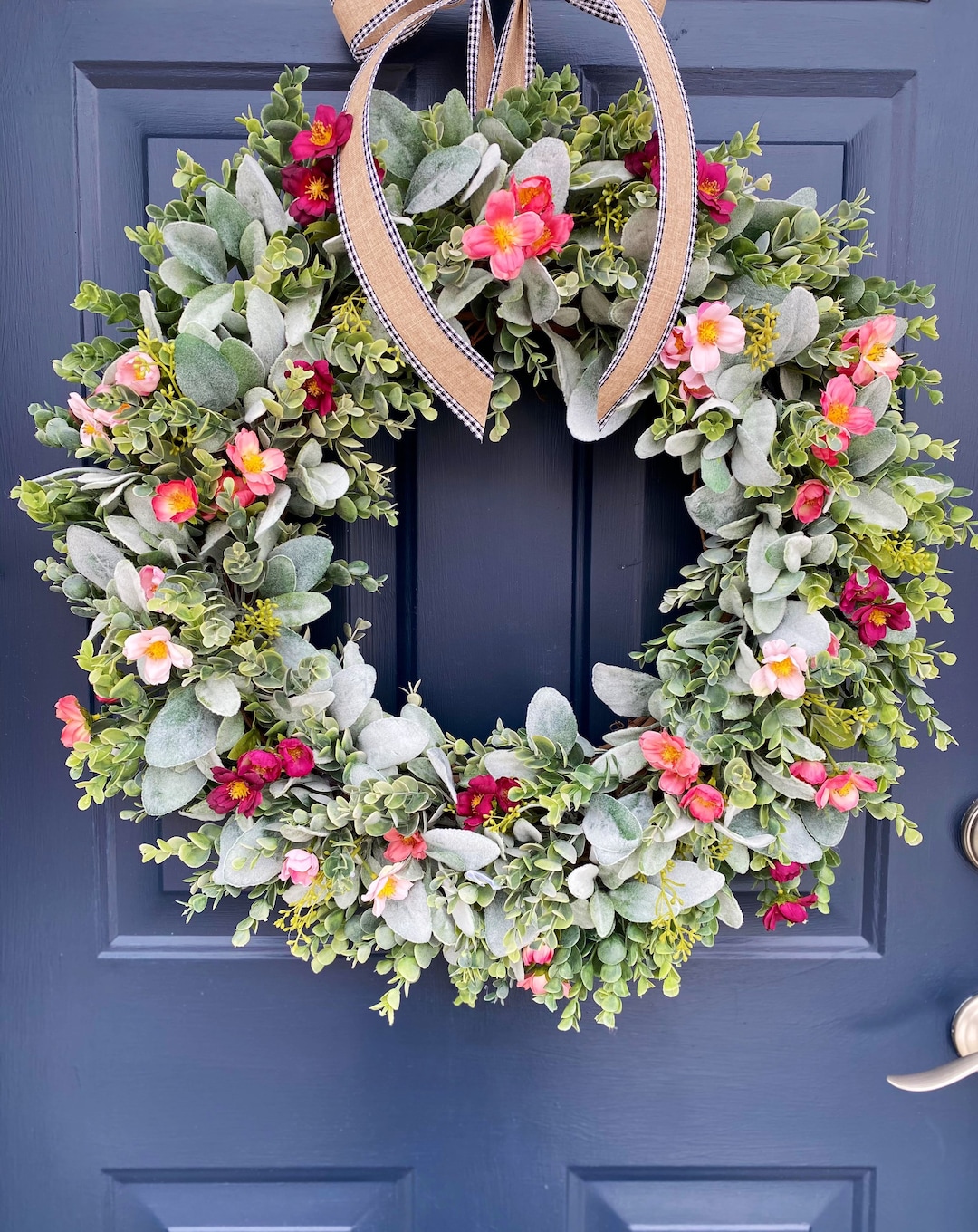 Boxwoods mixed in with eucalyptus and pink flowers makes for a beautiful wreath! You'll love adorning your front door with this boxwood eucalyptus wreath.
Dogwood Wreath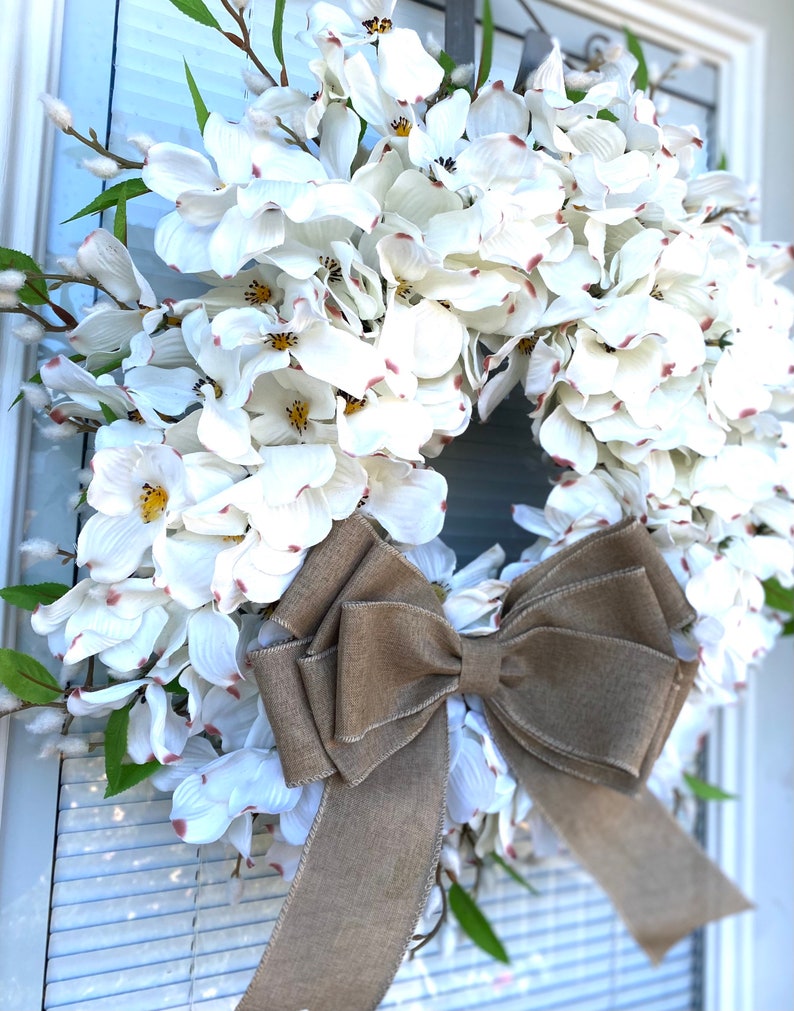 Dogwood flowers are so feminine and pretty. They look so elegant on this dogwood wreath.
Pink Dogwood Wreath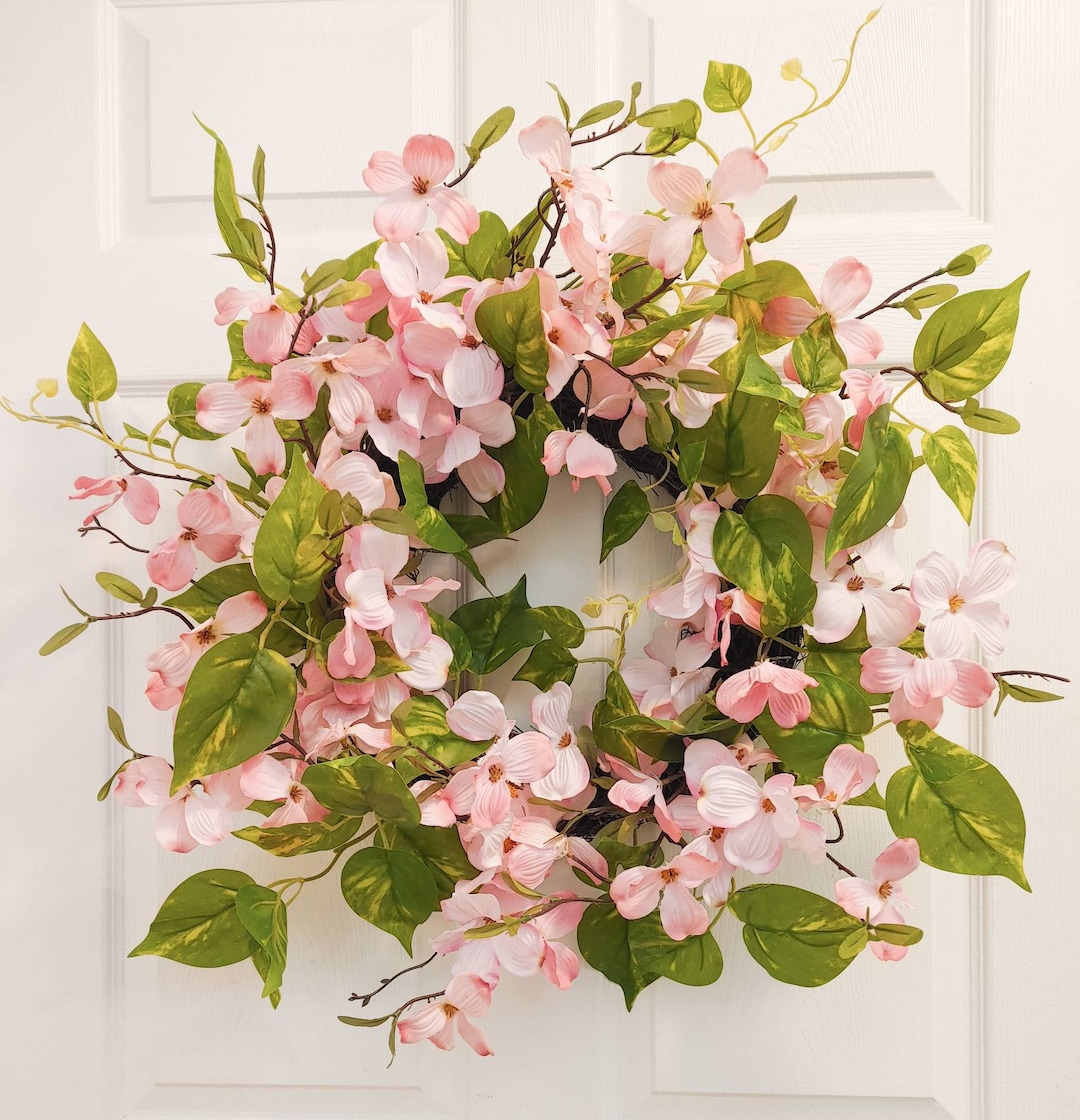 Pink dogwood flowers are just as pretty as the white ones. If you have a preference for the pink color, you'll love this pink dogwood wreath.
Purple Wreath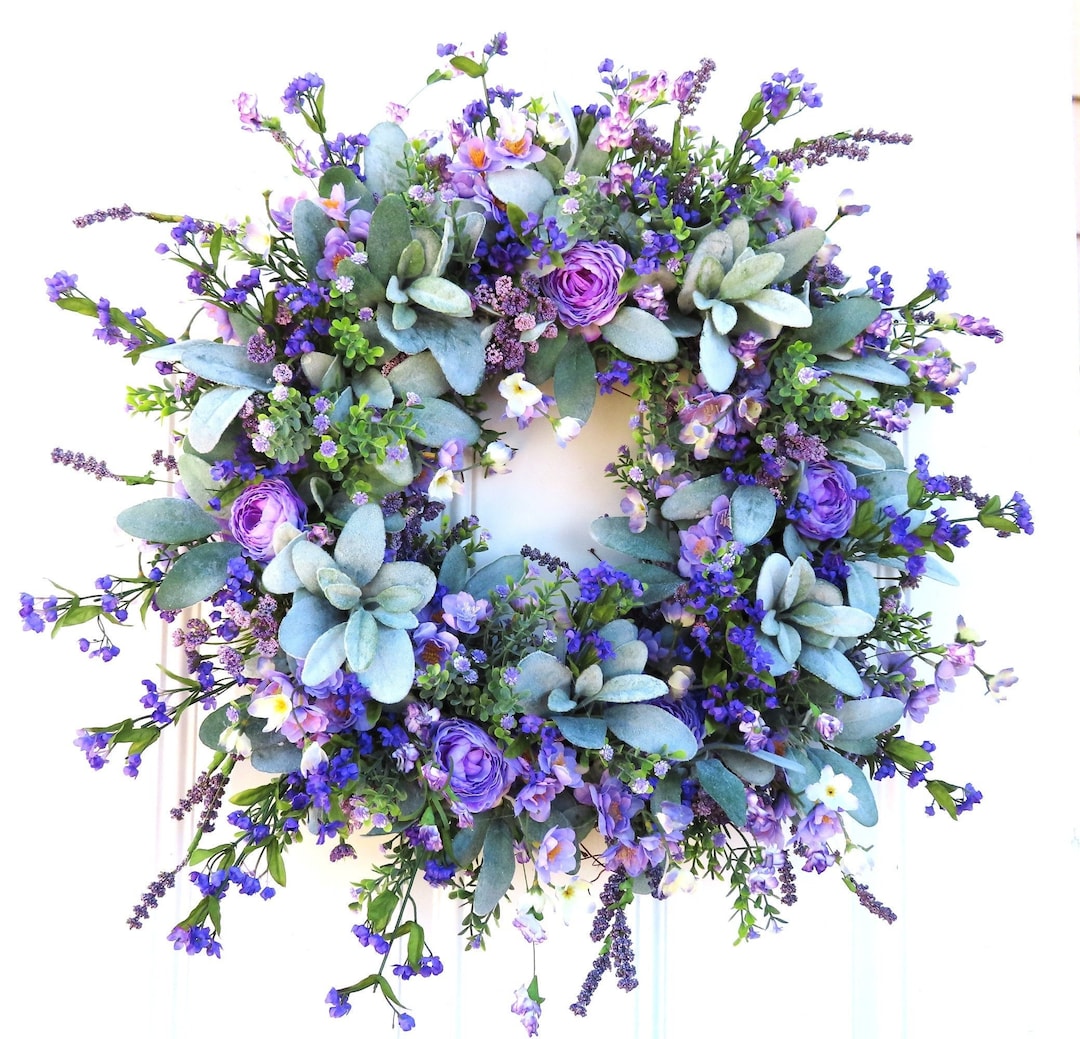 I love this purple wreath made with Lamb's ear, lavender, lilacs, wildflowers, Queen Anne's lace, and purple astilbe.
Mixed Greens Wreath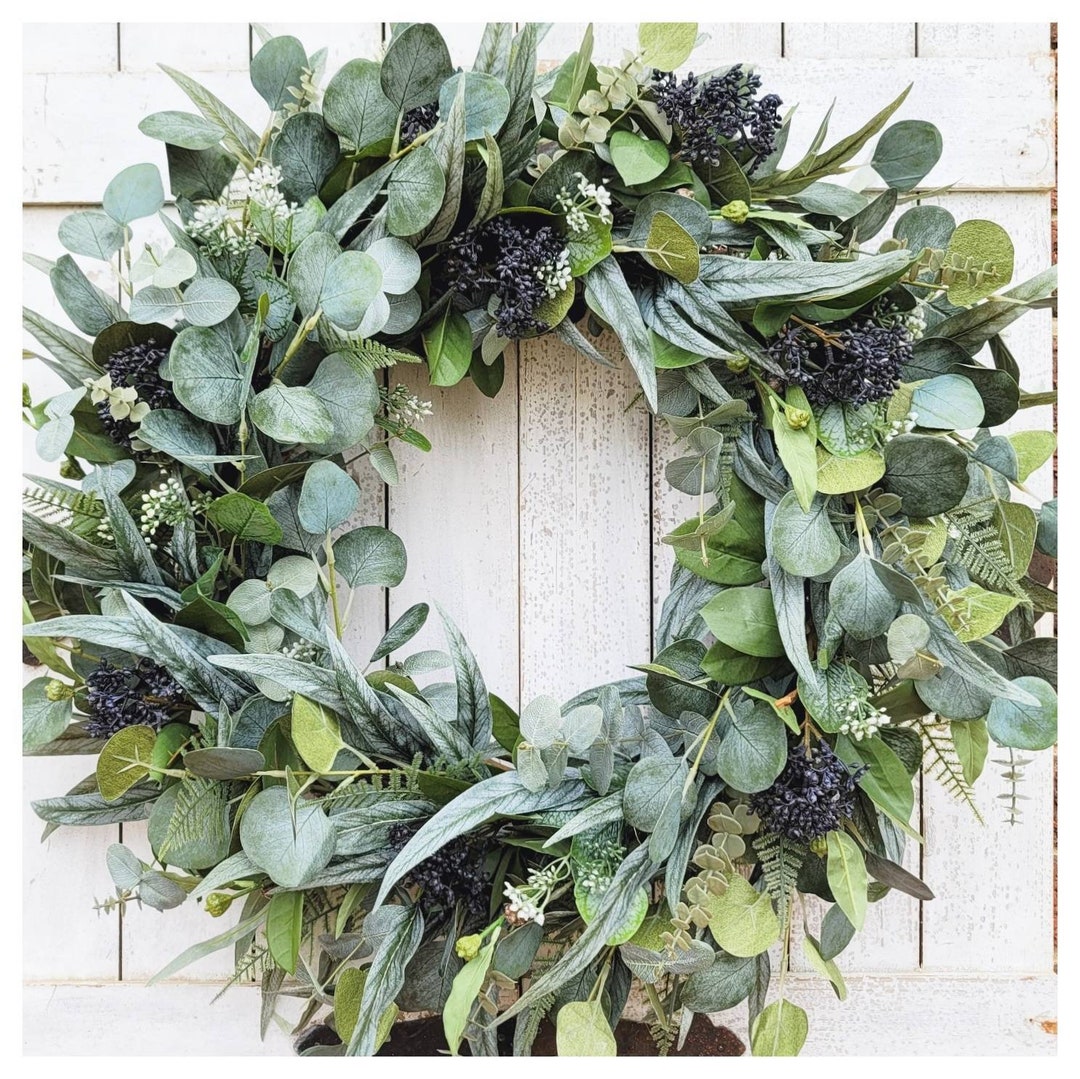 This mixed greens wreath will catch the eye of your neighbors as they are out enjoying the springtime air. It's beautiful.
Dried Lavender Wreath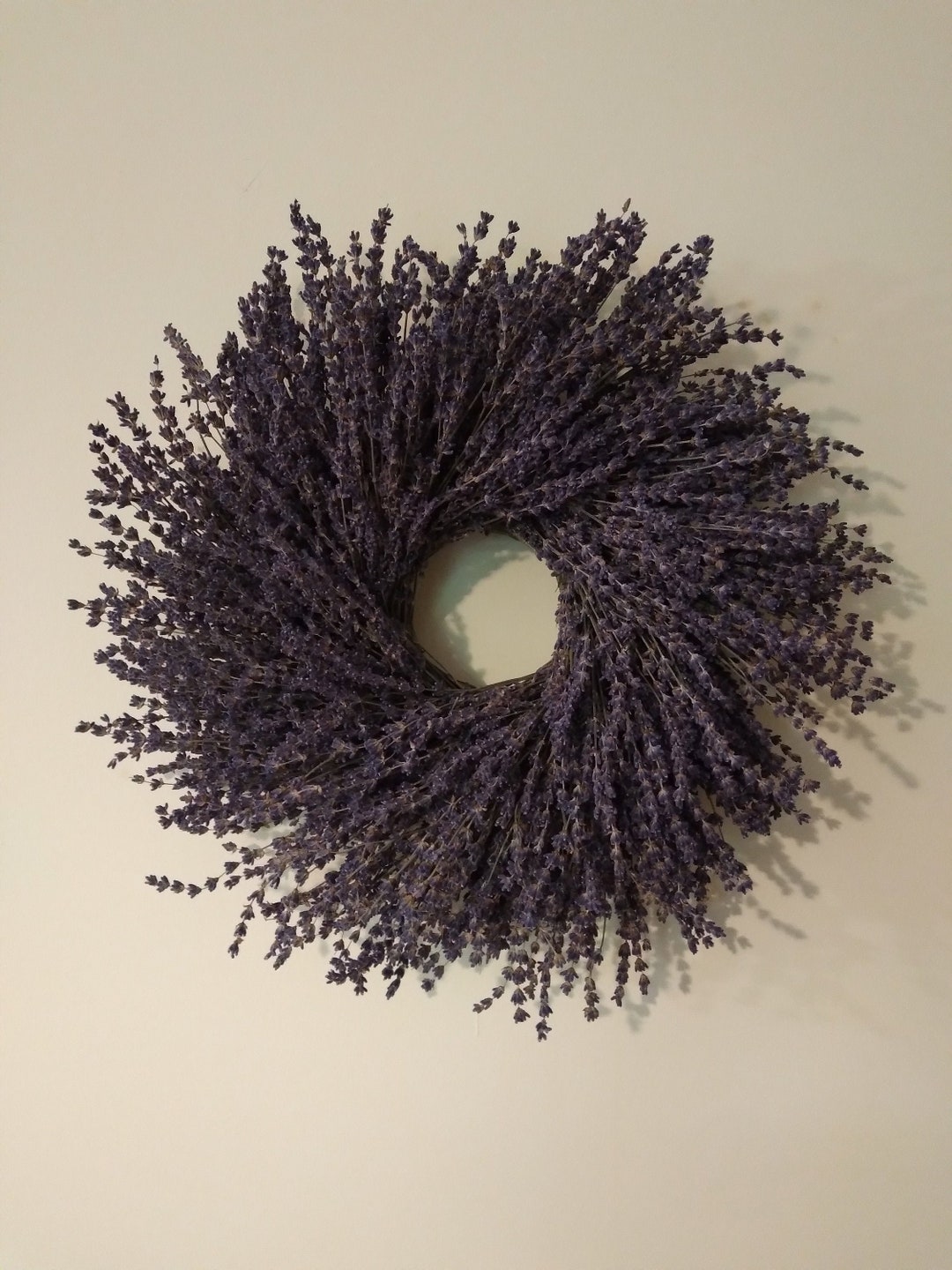 This front door wreath is made with dried lavender and is perfect to remind you of the country. The purple in this lavender will brighten your day.
Tulip Bow Wreath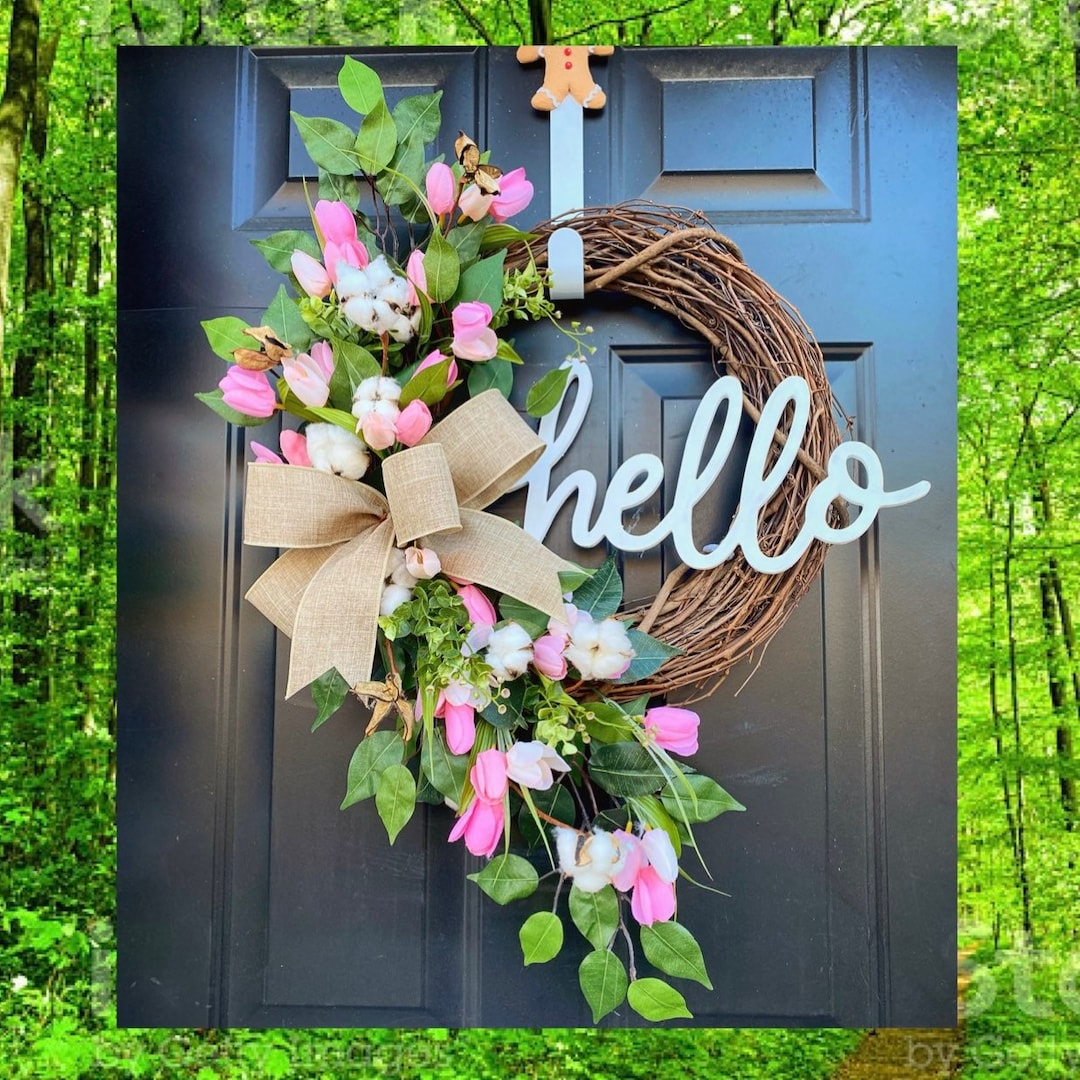 Hang this tulip wreath with a bow on your front door and everyone will know spring has arrived. People stopping by will have a warm welcome.
Lavender with baby's Breath and Daisies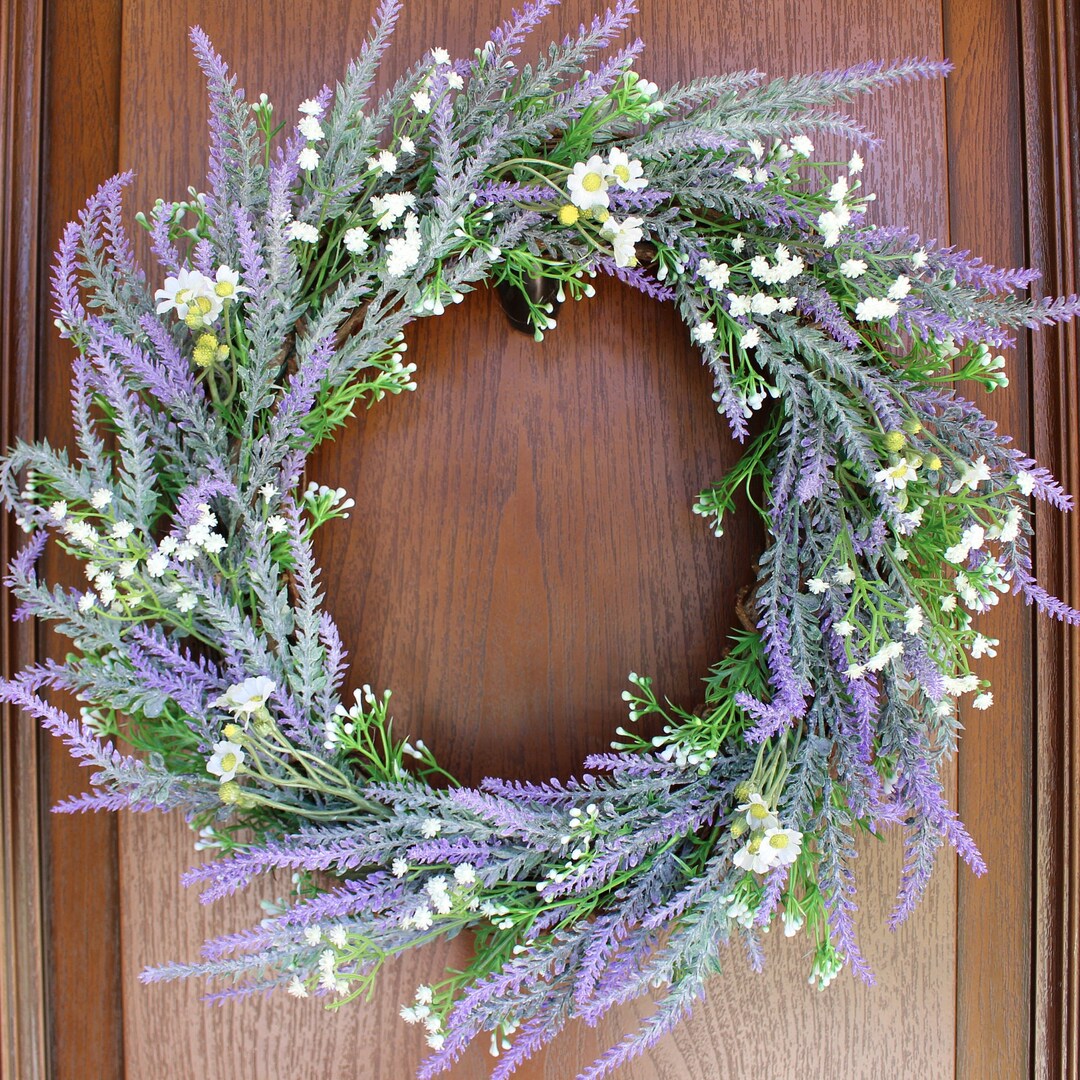 Daisies is a flower that makes you think of spring. I love this lavender wreath with baby's breath and daisies. The white of the daisies and baby's breath really pops against the greenery and lavender.
Ivory and Sage Wreath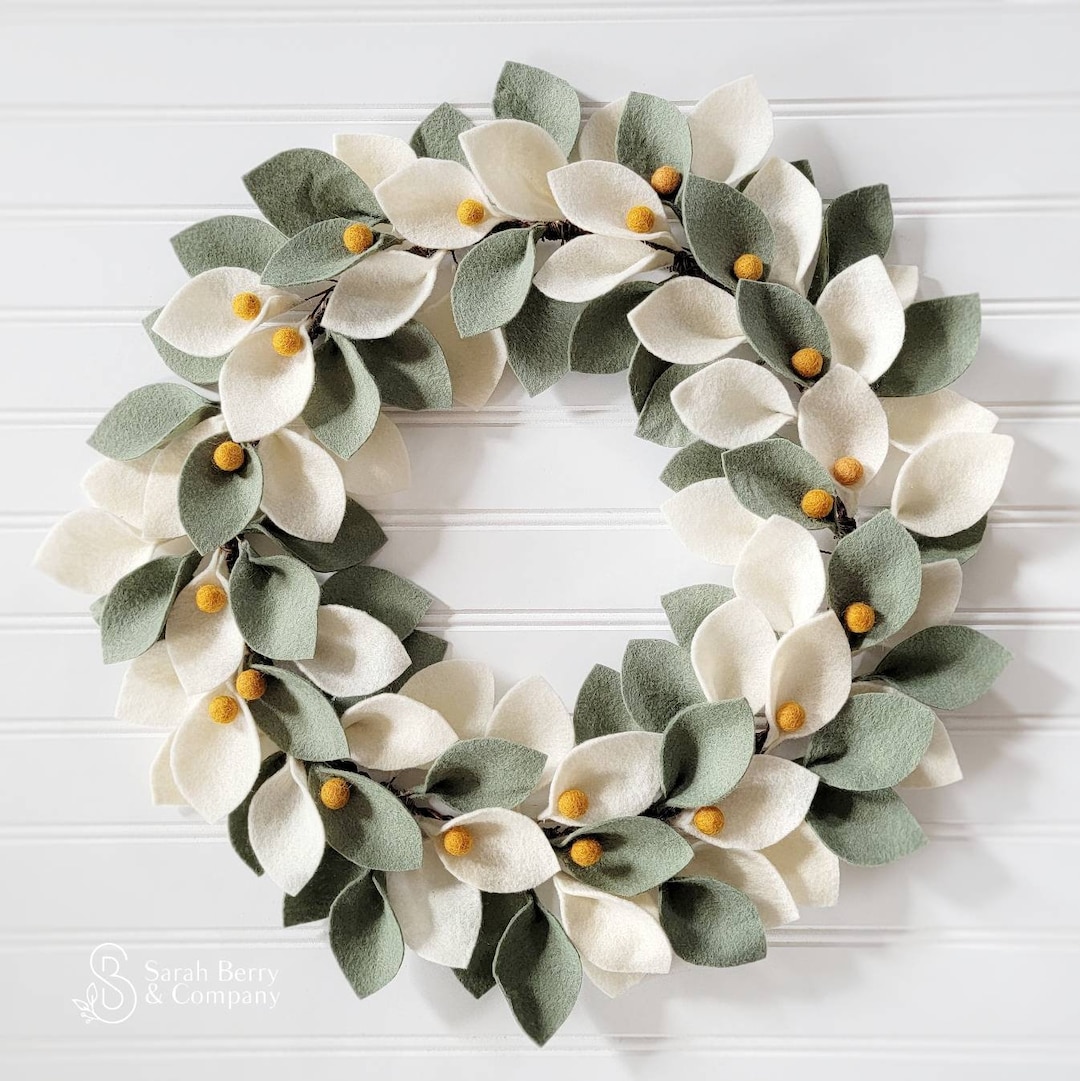 This ivory and sage wreath is made with felt flowers. The colors go so well together and is a great earthy wreath for your front door this spring.
Blue Hydrangea Wreath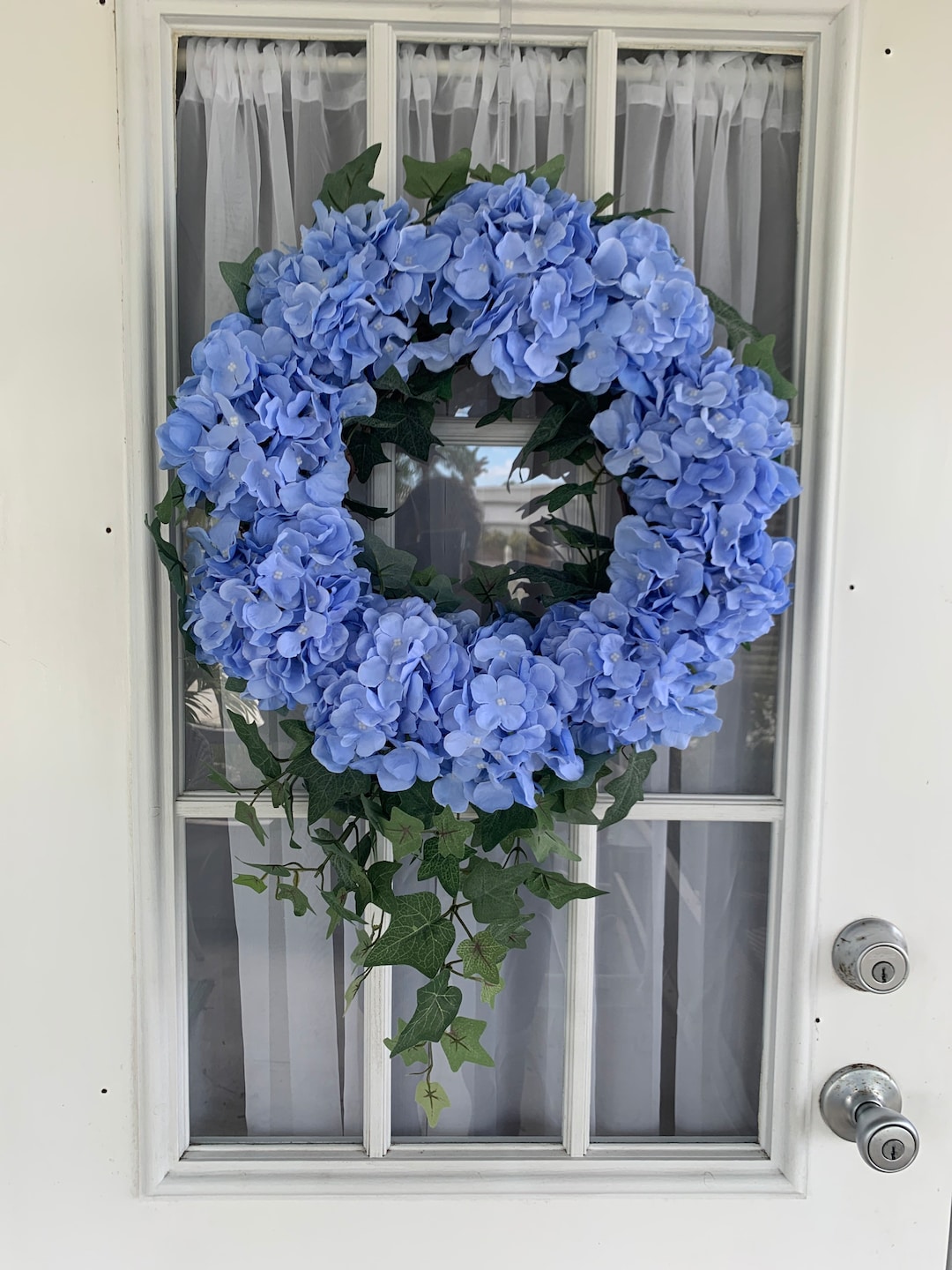 This hydrangea wreath with blue flowers looks great! It's the perfect way to welcome spring to your home.
Magnolia Wreath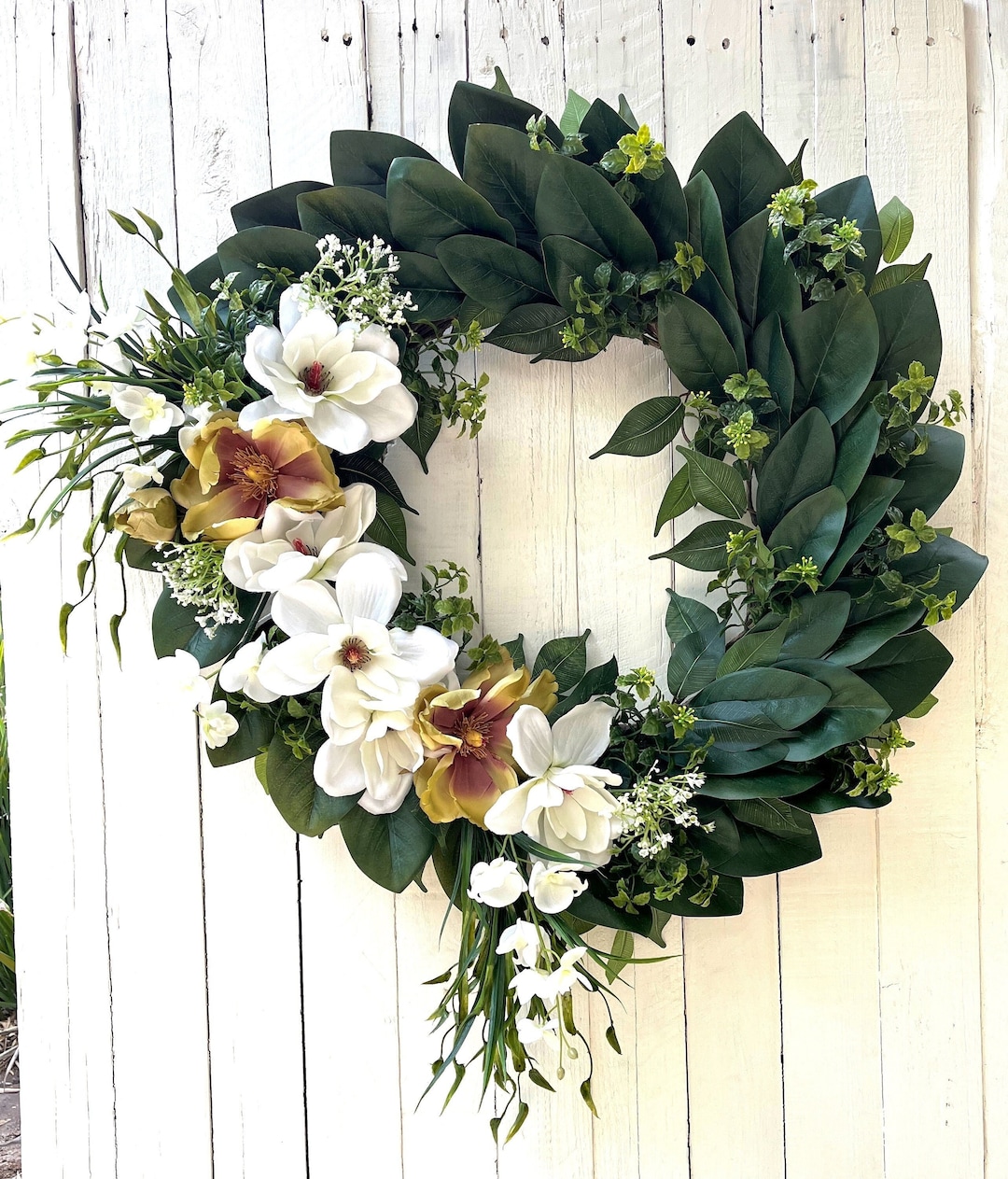 Magnolia flowers are gorgeous white flowers and this magnolia wreath has these beautiful flowers on it and will look right at home on any front door.
Pink Berry Wreath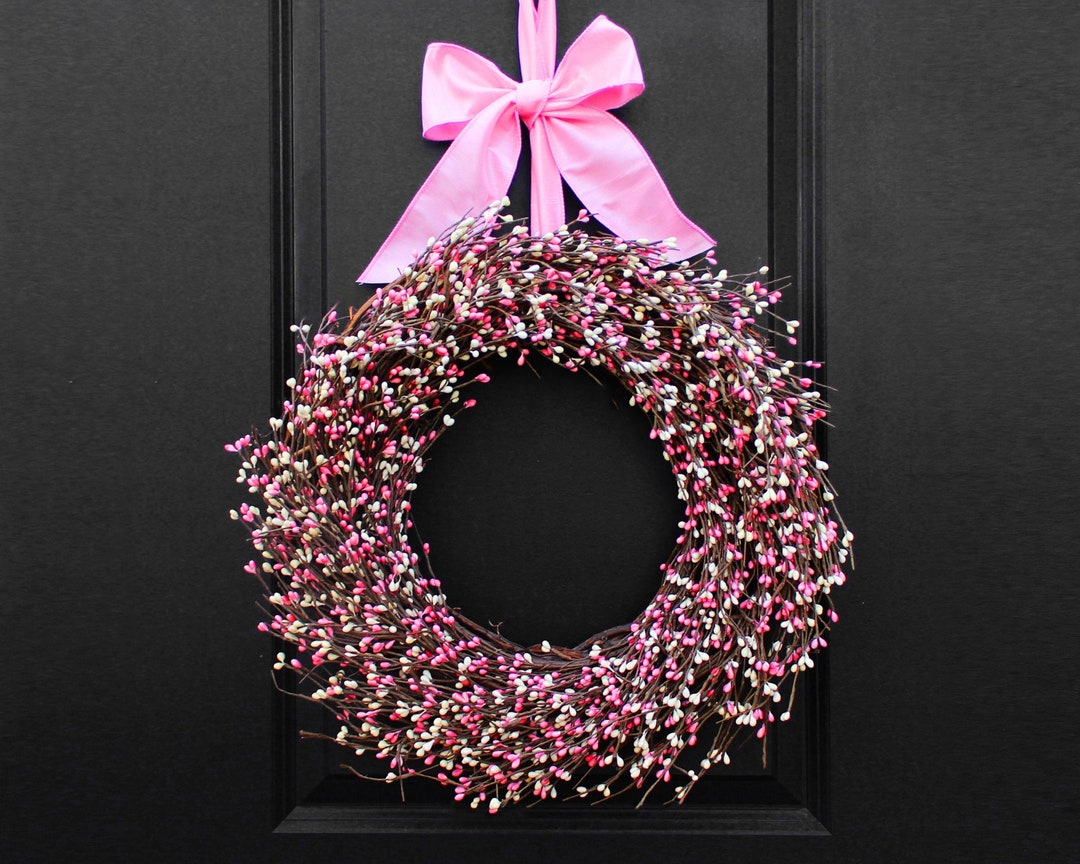 The berries on this pink berry wreath are so bright and cheerful, perfect for greeting guests who come to your door. Anyone who sees this wreath is sure to smile.
Flower Berry Wreath
The flower berry wreath is cheerful with wild flowers on it. Such a whimsy look that is sure to look beautiful on your door.
Make sure to "PIN IT" for later and follow Sunny Home Creations on Pinterest for all the latest family-favorite content!
More Spring Content You'll Love